Post # 1
Hello Bees,
Hoping for some advise on a bridesmaid dress that has caught my eye. Maid/Matron of Honor has tried it on and says she loves it but I can't tell if she is just being nice.
Here are my questions:
Is this appropraite for a Church Wedding at 4PM and Hotel reception 6PM in early June?
The material is Jersey. I have not seen it in person. Is this formal enough?
My Maid/Matron of Honor and BMs are hispanic, white, and black, all differnt shapes and sizes. Do you think this will flatter everyone?
Does this go with my dress?
And finally, which color?
Thanks for your help ladies! I hope that the Bridesmaid or Best Man dress won't make some of my conservative girls uncomfortable.
Olive
Violet
Azure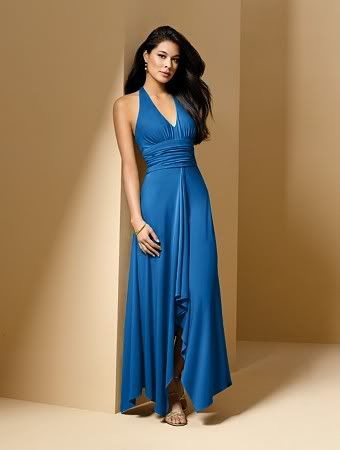 For reference, wedding and reception will be ocean front, but not on a sand beach.
I am thinking of a loose color scheme. I don't want the BMs to match the tableclothes, nothing too matchy, but more organic feeling. I am thinking of natural shades of greens, blues, brown, and ivory.
Our invitation suite
My Dress