Post # 1
First of all, here is my dress:
It has little pearl-like beads in the embroidered flowers, so I really want pearls. Here is the necklace I'm considering:
With either these:
or these: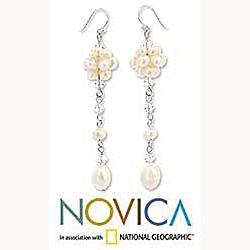 And I really LOVE these, but I think they would be too much with that necklace:
The bonus is that the necklace and 2 of the 3 earrings (not the drop ones) are available through the animal rescue site. <3 My only concern is that the necklace may be a little overwhelming.
What does everyone think of the necklace, and which earrings???