Post # 1
i made centerpieces for my grandfather's catered 80th birthday party and family reunion last weekend, and i could not be happier with the way the turned out.
this was my very first time making centerpieces or arranging flowers in any way, and i avoided a trial run because i am stingy. so, up to the day of the event, i was a tad (read: VERY) stressed about how they would look.
i bought the vases for $4.99 each and two spools of ribbon for around $2 each at michael's. the (meyer) lemons are from my parent's backyard (they were so excited to have an excuse to use the lemons because we always have WAY more than we can even use and that dang tree produces fruit all year round… everyone should have a lemon tree!)
i bought the roses from costco (i was SO happy about the brightness of the yellow ones), and the irises are from trader joes.
so, with no further ado, PICTURES!: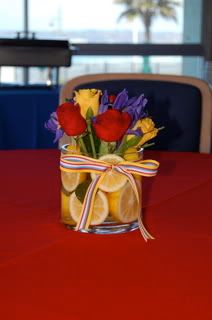 on the table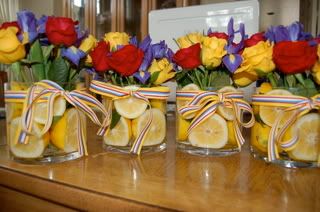 and the next day. they kept so nicely over night. in fact, the roses had bloomed more, and i think they looked even better the next day.
if anyone is considering this route for diy centerpieces, i definitely think making them the day before would be a great route. apparently the lemons actually help to keep the flowers fresh.
i do suggest keeping them in the fridge, though, if you have space.