Post # 1
Macy's is having some awesome sale on their Martha Stewart Cake stand!
http://www1.macys.com/shop/product/martha-stewart-collection-serveware-domed-cake-stands-collection?ID=635934&PseudoCat=se-xx-xx-xx.esn_results
This 12″ cake stand with dome was $122 then $84.99 and NOW $60.99!
Would have totally gotten it but it is too big for my small 2 tier cake (8″ and 6″)
Instead, i bought this 10″ with gorgeous scallop and lace trim which was $58 and NOW $39.99!: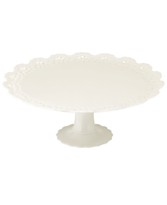 Great quality, great design, great price right now!
Sale ends today though..