Post # 1
Hey all,
I've been very active on the boards here looking for shoes that aren't sky high and have seen a lot of people as frustrated as I was by the fact that there weren't a ton of cute options for us that wouldn't make us 60 feet taller than our fiances.
Well, I've been researching for WEEKS and have come up with some great shoes not only for the wedding, but that I could wear for other occaisions too. I'm so excited that I want to share these options with all of you and open the boards to others who want to share their finds as well.
#1: Aldo – http://www.aldoshoes.com/us/women/shoes/flats
Wow! I am so impressed by the cute choices here. I just bought A TON of shoes (6 pairs to be exact). There's a sale right now – free shipping and 20% off.
One of my purchases might go really well with my gown. These could be a great choice for my reception shoe and were a steal at only $40.
They also have it in black, which I thought would be a great buy for other occaisions and are even more beautiful in that dark color:
I bought these shoes as well for other occaisions, but I could see them going beautifully with a champagne gown and can you believe that they're only $24.98?!
And for those brides looking for a pop of color for their shoes – are these just amazing?!? They also come in pink too 🙂
These next shoes are also in that beautiful mint green color that I love and are also on sale for $24.98:
They also come in bone and black as well. Here they are in bone:
#2: Etsy – etsy.com
There are so many affordable wedding flat options on etsy. Yesterday I bought a pair from Walkin on Air. They're blue and could also serve as my reception flats. They cost $49.00. If I decide not to wear them, then I could just wear them for other occaisions. They also come in a to of other colors and mediums (this one is suede):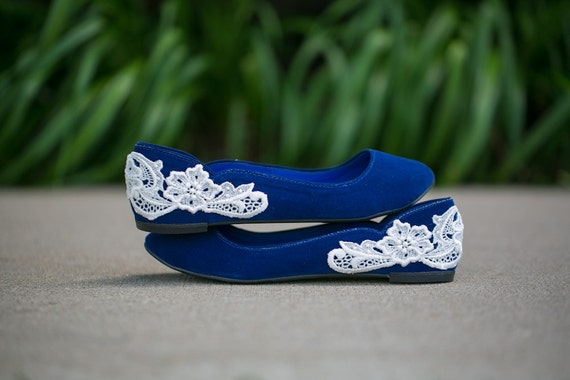 #3: Marc Defang – http://www.marcdefang.com/category_s/1884.htm
There are a ton of really beautiful options here. You could either have shoes covered in pearls or crystals, both of which you can customize for color. I almost got these but then realized that my gown had not one sequin or sparkle and these shoes wouldnt probably not be the best choice. These shoes are more expensive than the other options, starting at $109.
Here are a few of my faves:
What's so awesome about these little guys is that you can customize them, and you can even buy a matching clutch for the big day.
#4: BLUE by Betsey Johnson
These are super cute, although a tad plain for me personally (unless you go with the glitter options): My favorite part of thses shoes are the bottom: They're BLUE. Love it. And at $79, how could you NOT love thess.
Well, my brain hurts from all this researching, so I'll leave you all with those choices for now. Please feel free to add 🙂