Post # 1
Mr A. was trying to convince me to get a hair cut today but I just don't have the timie or money right now.
So he says "But hun you're starting to look like Jan Brady. OMG You look exactly like Jan Brady."
Hmmm let's investigate this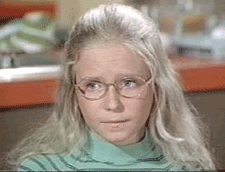 1. Yes, I have long blonde hair but it's not that light.
2. Yes, I wear my long blonde hair off my forehead in a similiar fashion.
3. Yes, I wear glasses but they are purple and square not pink and round.
4. Yes, I have braces but mine are the cool ones.
5. And even though it's not physical I am also a middle child.
Uh-Oh! Maybe I really do look like Jan Brady.
I can't post a pic here because I'm at work but I know some of you have seen pics on my blog.
Crap!