Post # 1
Hi Bees! I've been quite absent from the boards lately. Since Hurricane Sandy flooded the first floor of our home, we were displaced for 7 weeks. As you can imagine, it put quite a wrench in our wedding plans (fortunately, though, all of our vendors are OK!) We're finally moved back in and it's back to wedding planning!
I've been seeing a "Mr. and Mrs." sign both on the Bee and on Pinterest. . . and I absolutely LOVE the idea. How cute for the sweetheart table and to hang in your home afterward!
Here's the one I purchased off of Etsy for $9!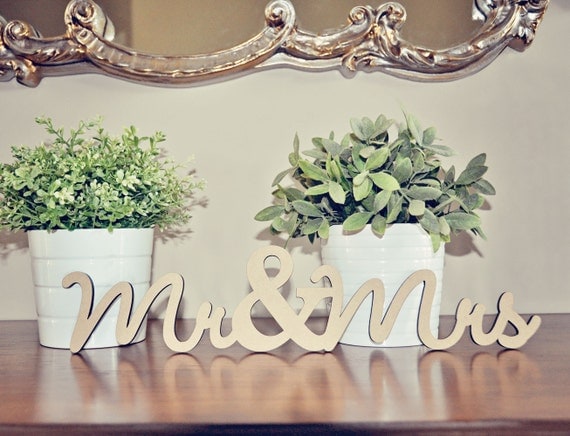 Unfortunately I didn't take many pictures of my progress. . . I was too excited about it! I primed it with white paint first and used Martha Stewart glitter paint in Sterling. At first I thought, OOH! Glitter paint! That'll look amazing with rhinestones! Well, after the first coat I quickly realized it was going to need a LOT of coats for it to look the way I wanted. I probably painted about 7 coats of the glitter paint. Here's a close up after the paint was finally done and I was testing out the rhinestones:
And here's a pic of the final product:
I absolutely LOVE the way it came out, and I can't wait to display it on our sweetheart table! All in all the project cost me less than $20!