Post # 1
Hello my Lovely Ladies! Happy Veterans' Day weekend! If you haven't thanked a vet yet…*wink wink*…get going! 😉
Anyway, me and my SO talked over the past couple of days that we want to get married sooner than January! OMG I KNOW RIGHT?! *cue hot flashes* He's been gone for a while for pre-deployment training and won't be back until next week, and he brought it up that he would love to spend time as much time as husband and wife before he deploys as possible. Of course I said HELL YEAH! 🙂
So, when he returns, we are deciding if we are getting married this month before we go to the mountains (where we were originally going to get "officially" engaged) or in December on my birthday, before we go visit his family for the holidays.
Of course, me and my mom were like:
"OMG WHAT ARE WE GOING TO WEAR?!"
So today, we went POWER shopping. I mean, I nearly threw my back out I was tearing through the various racks so fast. I wasn't looking for a "real" wedding dress, so to speak. Just a nice dress I could wear since we are having a vow renewal when he returns from deployment so all of our family can celebrate with us.
Bear in mind that where I live has NOTHING when it comes to shopping. So finally, I stumbled upon this little beauty: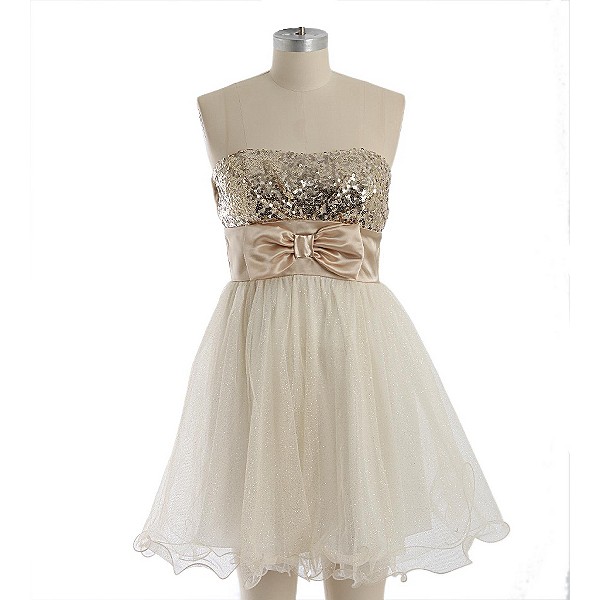 I'm so pale, it compliments my skin tone beautifully! And considering the season, it's sparkly and I can rewear it for holiday parties if I want. And it has a bow! I LOVE BOWS! I was going to get a dress from David's Bridal, but I love this and it's cheaper! It fit me perfectly. :3
AND! I found these shoes that matched it so well!
Chelsea flats in Champagne. My hurt knees make it difficult to wear heels, but that doesn't mean I can't be fabulous.
I am going to borrow some gold jewelry from my mom per her request. The whole outfit together looks great. I plan on curling my hair and doing my normal brown/bronze smoky eye.
My mom encouraged me to get some sexy lingerie for him, too (yeah, she's a cool mom), and can I just rave about Cosmopolitan lingerie?
I wasn't feeling any of the stuff at the local Victoria's Secret, so when we were at JC Penney looking for a pantsuit for my mom, I tried on some of the Cosmo lingerie…LOVED IT! So comfortable! I ended up with this sexy number:
The thong wasn't too tight (OBVIOUSLY I didn't try on the thong at the store, but when I got home lulz) but fit just right. I got a Medium and I wear street size 8-10, depending on what the clothes are. The baby doll was super flattering and the straps adjust for better support and va-va-voom! Plus, it's SO's favorite color so I had to get it. 🙂
I'm so excited ladies! I can't believe everything is so close!