Post # 1
Hi Bees!
I've been reading articles and forum posts for a good month now (so many ideas for DIY projects…!) and just figured that I wanted to participate to conversations, and so I joined.
I'm 24, getting married September 15th (I've seen some date twins on here somewhere!) after being engaged for 4 years now (he asked after a year of us being together). And technically, we should have been married 2 years ago, but we found a house that we just couldn't let anybody else buy (we both moved from our parents to our own house, thus skipping apartment life – just what we wanted!), and so the wedding budget dropped drastically. Luckily enough, we didn't have anything set yet and no down payment had been given, so we postponed it until now.
We still had time to buy my dress and his attire. So basically, yes, my dress has been waiting for me for 2 years! I admit having had MAJOR dress regrets (and again after my fitting a few weeks ago) because 1. I went looking, trying and buying all by myself and 2. I did not try any other dress: I tried one on, it was looking good and was the right price, so I bought it. I guess my biggest real regret in all of that is that I did not get to go dress shopping with my mom and that I didn't try any other. At least, now I'm at peace with my dress and can't wait to wear it! I must add that I *still* forgot to take a picture of me in it, and THAT bugs me out big time! Haha!
We were both born and raised on the Ile d'Orléans (Orleans' Island) in Quebec, Canada. It's such a magnificent place. It really was a natural decision for us to get married in Ste-Pétronille (one of the six villages on the island that also happens to be the village we lived in) It's going to be soooo magical!
And I'm sure you've been waiting for it, so here's a look at my ring, made of 6 sapphires and a diamond (my SO knows how much I love anything that's blue!):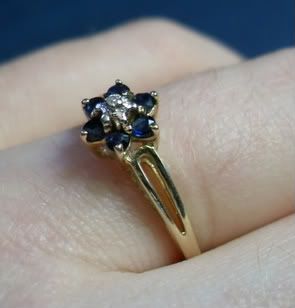 Hmm, I didn't mean to write a post this long to introduce myself but oh well… At least you know a bit of me lol!
I'll see you in some other thread 😉
Since then, happy wedding for those of you who are tying the knot in the next few weeks!
~Molianne