Post # 1
Hi ladies!
I have the Mori Lee 1862 and I've always wanted straps and I'm going through alterations now! I originally looked for a lace dress with straps but didn't find any I liked. I'm not wearing the bolero because its too big for my shoulders.
I need some help figuring out straps (or not) and a sash! My wedding is October 5th (yes, next month)! I need to find something SOON.
STRAPS: Should I buy these? Thinner floral lace applique, nothing too wide cause I want to show my shoulders. I could customize them a bit wider too.
DRESS:
Me on a stool before alterations, I'm only 5'1″ ha. This is my fave sash too.
back of the dress (again, imagine without bolero)
Here's pics of straps I tried with my bolero fabric.. just to give an idea for width. (dress isn't fitted here because I have the alteration pins in!)
Is this width ok? I just don't like the straps silver beading tones (think this sash is a bit big)
Or should i wear it strapless, which I have sworn against.. but I am not entirely oppposed at this point. with my mom's pearls:
I will be getting it a little tighter around my bum next alteration (if I can walk ha).
SASH: I really want to add one as the dress looks very plain on its own.
Thinking a thinner ivory ribbon tie either with chiffon/silk flowers to the side or maybe one with some bling in the center, only like 4 inches wide because my waist is smaller. Thoughts?
This is a closeup up the sash in the first dress pic.
Here's my other details to help you envision!
VEIL: I am wearing an unfinished edge fingertip veil with it for the ceremony. I will be wearing it over the face for walking down the aisle (grooms request :)). Similar to this: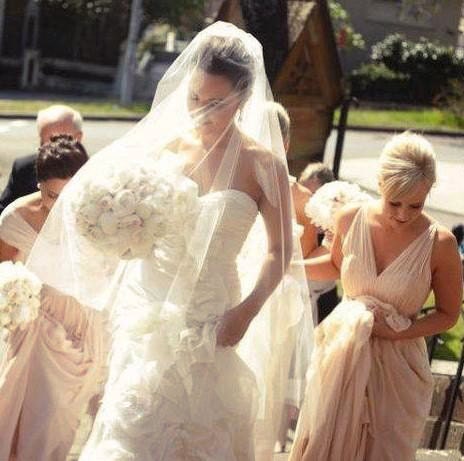 HAIR: I plan to have my hair in a loose bun up with some babys breath tucked in (not a crown but similar to this):
NECKLACE: He bought me this one which I LOVE, I just didn't buy it myself becasue I hadn't figured out the details yet. He doesn't mind if I don't wear it, but I would like to!
Thanks in advance! Sorry it's a ton of photos! I am really indecisive and would value feedback!