Post # 1
Our favors will be stemless wine glasses, like these.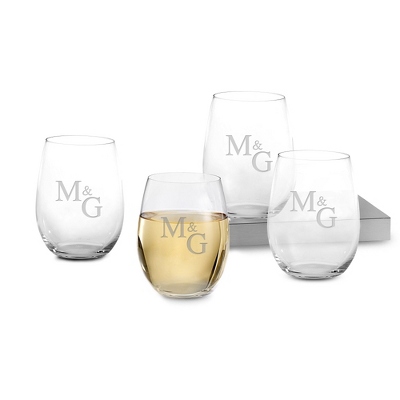 I ordered a sample and it's perfect! They even sent one with an imprint and I ran through the dishwasher to make sure it doesn't wash off. It stayed!!! We've even tried scratching it off and it's sturdy.
Now the dilemma…. what to put on there. Our wedding is going to have bling and royal blue and silver. Naturally we will have these imprinted in satin etch which looks frosty, like it's engraved. Each glass will be at the table with a royal blue satin pouch bag inside (for them to fill with candy from our candy buffet). Orginally we were going to put our monogram on there. Our monogram is going to be embossed in the invitation and we will have a bling initial cake topper. I thought it would all tie together nicely. My soon to be Mother-In-Law thought that people won't use them if we personalize them. That made me think…. will they? Should we go with something more general??? Here's our monogram:
Now, MrJ85 thinks we should do the monogram. I starting thinking we should change.
Here are the other imprints I considered:
Happily Ever After
or
From this Day Forward
What are your thoughts????? I appreciate any opinions. Thanks