Post # 1
Wedding: May 2011 - Bartram's Garden
One of my favorite things to do when I'm bored is play around on Poladroid, a free program that turns your photos into retro-looking instant photo lookalikes. Now, today, I came across these teeny tiny little photo hangers on Photojojo, and I had an amazing idea: personalized retro escort cards.
I spent a few hours today figuring out how to make this work. First, I went on Facebook and found photos of almost all of our guests. We're lucky that about 95% of our guest list are very tech-savvy and have online photos. There are 3 or 4 people who I'll have to ask to either email me a photo, or send a hard copy that I'll scan in.
Then, I Poladroided (I made that word up) all of them.
And then, I typed everyone's name onto them, in a retro-ish typewriter font. I put in a placeholder for the table numbers, because we aren't even close to doing a seating plan yet.
We'll print them out on some cardstock, hang them on those adorable little hangers (on twine maybe?) and then they'll be for the guests to keep.
The photo selection was the most fun. I tried to avoid photos that were too stiff and posed. Instead, I chose candid, kind of silly photos of friends and family.
Mugging to the camera while wearing sunglasses…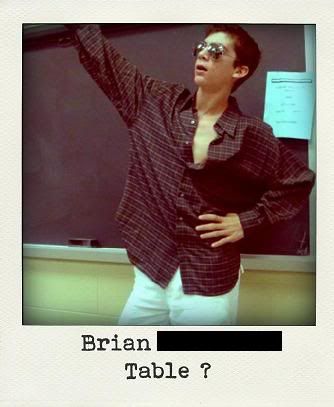 My uncles making funny faces…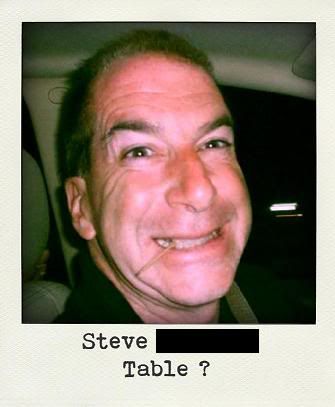 Kissing at the camera…
Enjoying food and/or drink…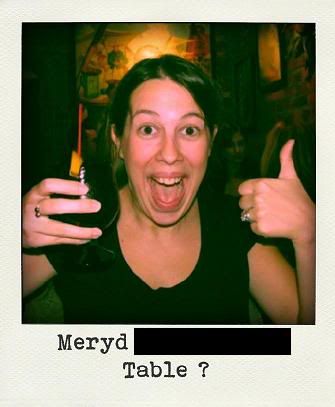 Or just showing off their questionable facial hair…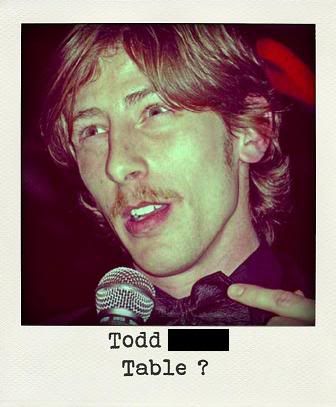 As far as the table numbers themselves, well, I'll wait until after we get our engagement photos done, but I mocked one up so that you'll get the idea. Each table number will be a cute photo of the boy and me, Poladroided up and put in a frame, or on a stand or something – that part of the plan remains to be seen.
I'm really excited about this project. It's very easy and affordable, but most of all, I think that our guests will get a kick out of seeing their own photos on display at our wedding.
What do you guys think?