Post # 1
We had our wedding on my parent's farm, so most of our decor was pretty simple and rustic… but I definitely wanted to have some pretty accents!
Our Sweetheart Table – The candles were saved from my grandmother's wedding in the 1940's. The crystal was gifted to us. I chose our table to be the "Sweet Pea" table. 🙂
Our wedding was probably 95% DIY. I had so much fun the day before our wedding putting our favors together with my sisters and Mom.
Another one of my fav DIY projects: cloth napkins! I made all the dinner napkins for the reception from old linens I collected. Our guests LOVED them!! Some took them home as souvenirs, and everyone was just amazed that I sewed them all. And to be honest, so was I! It took me a looooong time to sew 125 napkins, but i felt so proud at how pretty they were when I was done. I hadn't touched a sewing machine in probably 15 years, but this wedding really got me back into sewing again! Since we had a buffet, the napkins helped put some color on the tables since we had pretty minimal decoration.
Another one of my DIY projects was this little box for our rings. I swear Michael's stock probably rose during the months before my wedding!
The burlap ring bearer's pillow I made. Too bad my little nephew refused to walk down the aisle unless his mom was carrying him so he never really carried it. But it made for cute pictures!
I did all the flowers for our wedding. I LOVED the flowers we got for our centerpieces and the cake… from Sam's Club! They were so beautiful and lasted all the way through our honeymoon (we drove to our honeymoon cabin, so we took a bunch with us). I wanted bright, beautiful flowers and we got them! So, if you are a bride on a budget and don't mind doing the arranging yourself, you can get a good bargain by getting your flowers from Sam's!
I got my bridal party gals and myself all vintage clutches for the wedding day. They all loved their gifts, and I think I am going to keep this one forever. It will be a great way to remember this special day. 🙂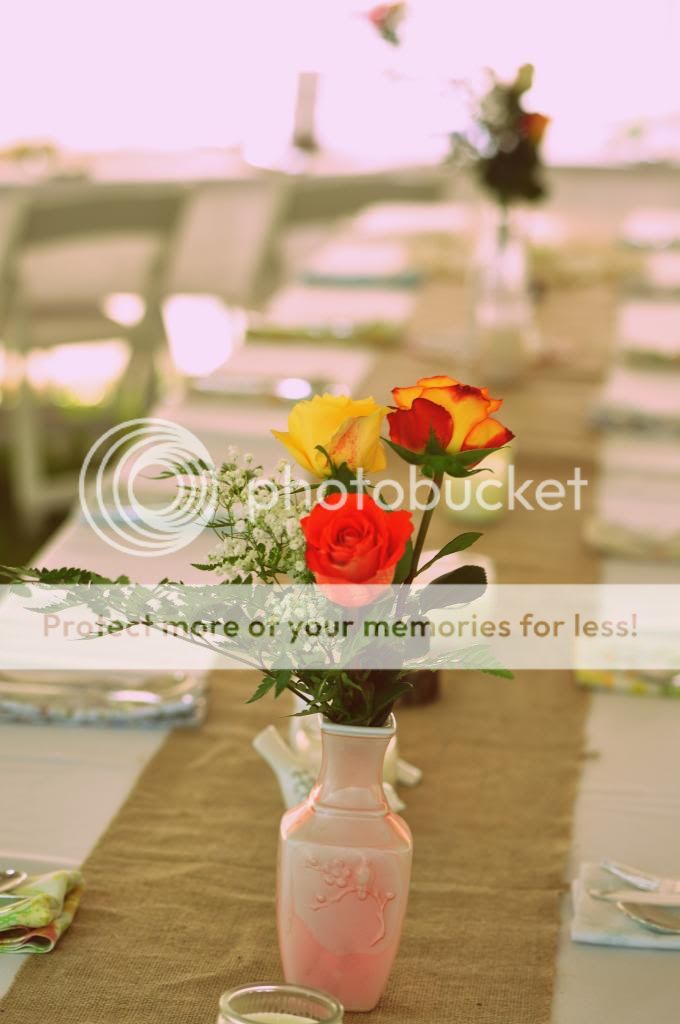 I collected all of our vases from thrift stores and estate sales. I ended up with an eclectic mix, but loved all their homey, beautiful charm.
We decorated with these little 'lovebirds' I found on sale at Michael's. We saved two of them and they have a home on the dresser in our bedroom now. I love seenig little reminders of our wedding around the house. But, it doesn't scream WEDDING, either, which is nice. 🙂
I made all the wooden signs seen in the pictures. Though my photographer missed our "Mister" and "Mrs." signs on the back of our chairs. They were super cute, and cheap too, as I scavenged the wood from my parent's farm.
I pulled this old wooden and glass door from one of my parent's out-buildings. For our seating arrangement, we used flower names printed from old seed packets. My niece drew out the flower for each table on the glass, though you can barely see the writing on the glass here in the photo, it showed up beautifully that evening. We got lots of comments from our guests on how it was one of cutest parts of the evening.
All in all, I LOVED putting together all the details for our wedding. It really got me back into doing more crafty things!