Post # 1
I'm trying to finish up the decor for our reception, and while I'm hoping for somewhat of a color explosion, I want it to look classy as well.
To give you and idea, this is the wedding cake we're using:
http://www.publix.com/food/catalog/ProductDetail.do?id=129
And this is the inspriation for my flowers: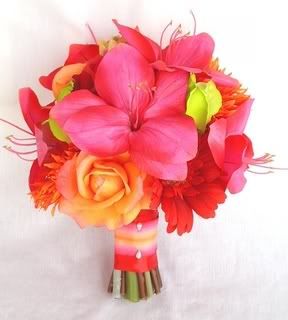 What I'm having trouble with is the tablescaping. We're having a buffett-style late reception, so there won't be a lot of stemware on the tables, but I'm…just…stuck.
Has anyone used this color scheme? If you have, what did you do?