Post # 1
I found my dress this weekend! I am so happy, and just a week before my deadline. It was getting down to the wire for the safe zone, and I truly had no IDEA what I was looking for or wanted, so my wedding planner lasid down the law – pick by the end of June OR ELSE. I was having major issues because I am plus sized and I couldn't find any bridal salons in New Orleans that had a healthy sample of gowns that I liked and could try on in my size – 22W-24W bridal, 18/20 street.
My dream dress based on looking was VW351010 from Vera Wang's White collection for DB.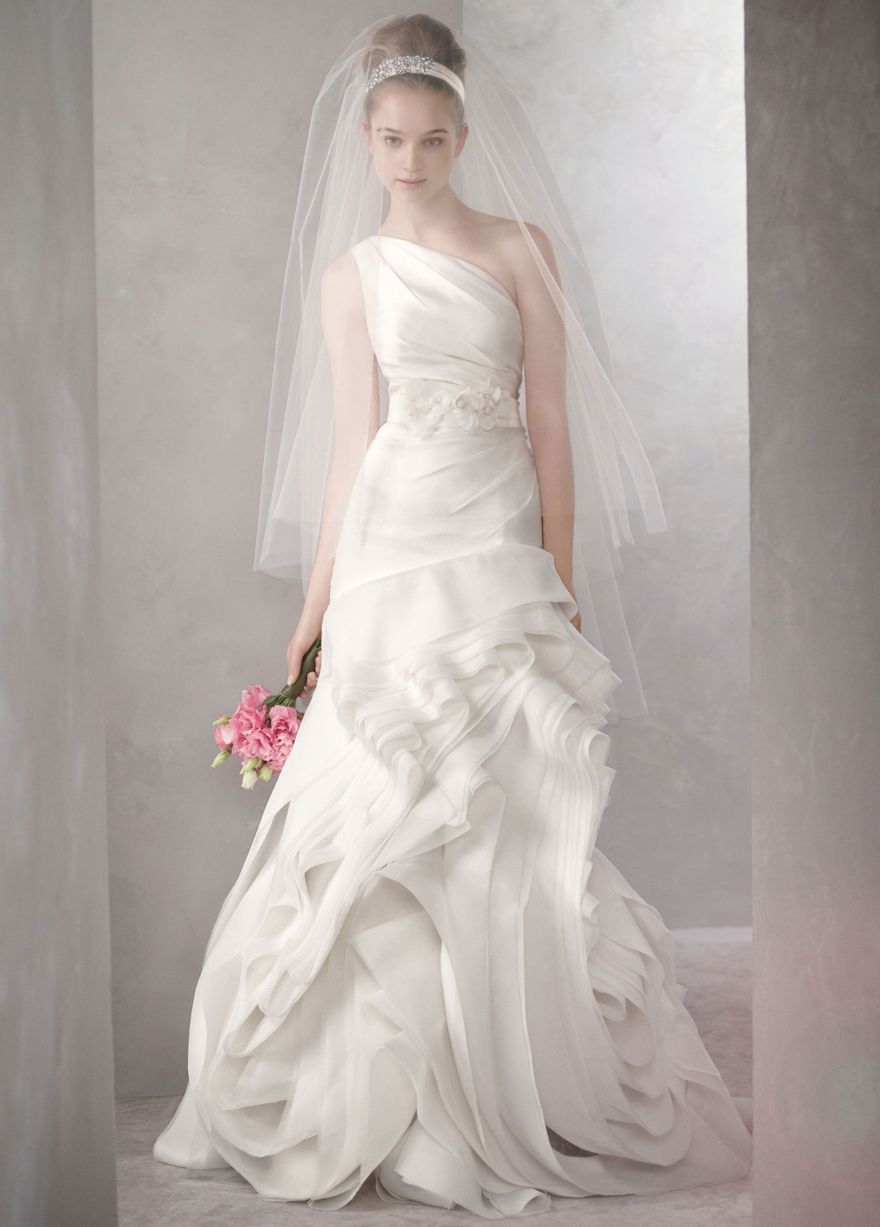 I never got a chance to try (and never will) because apparently VW only sends a 16 for plus size brides and that's not a women's cut. I was so disappointed, that after looking there and at Pearl's Place and not getting to try on any dresses that tickled my fancy, I didn't think about it for weeks.
I finally decided to go to Atlanta, to New Natalie's a place that another plus size friend of mine recommended. She got married a couple weeks ago and looked amazing, not to mention that she was able to try on a lot of dresses and she bought not one but two for 1100$ so the price was very affordable. My budget was 1000$ so I decided to hop into the car with mom and go for it.
The trip was great. Mom and I got to spend some great quality time together (I love my mom, but she lives over an hr away and we're both career women, so one on one time is precious). We also found the dress right away, at the first place we looked! (I am decisive). We got there for 10am as soon as the shop opened, and we had an appointment. We worked with Carty, a wonderfully warm Caribbean lady who was very knowledgeable and friendly. She gave me as much personal service and had as much expertise as any Kleinfeld's consultant on yes to the dress. I got the feeling that I got that level of service and attention because of the time of day — the place was set up to serve crowds I could tell.
They don't allow pics of try on dresses, but nothing compared to her anyway, especially since I wasn't just looking for a fab dress, but one that looks FAB on me. So we got to pulling dresses right away, and I actually pulled my dream dress with the first 6. Carty asked me as we were checking out the plus sized racks and she was explaining to me their color code classification system for dresses, "Have I shown you our let's make a deal rack?" O_o!! I am a BARGAIN SHOPPER. Hearing that made my heart sing.
My dress was the 3rd or 4th one I tried. I loved it, couldn't stop staring at how slender and curvy I looked or how my I felt like a bride and a princess (not really my thing, or so I thought). My mom loved it also, but wanted me to continue to try on. I knew it was the one when neither I nor Carty could drum up any enthusiasm for the second go round of dress pulling. We tried some other ones, but my heart was with my dress by that time, and when she put it back on me with the tiara and veil, I knew. My heart was beating fast, and I felt warm and tingly right down to my fingertips! I'd found her: Kenneth Winston for Private Label by G 3348!
I would have uploaded a pic of me in the dress, but the pics are on my iphone and I've developed a paranoia about sharing online because I want COMPLETE secrecy except for mom and bridesmaids!! I love this dress because it's absolute magic on me: lengthening, slenderizing, minimizing my large bust, flaring from the right point on the waist… and the DETAIL on this dress is astounding for the price point, on the front and down the back. Amazing! I looked like a princess, and with a veil, like an angel. I am amazed. AMAZED I tell you!
Because this dress was from the deal rack, I got it for 769$!! I also got to take it home right away! No need to worry anymore about whether my dress will arrive or whether it can be altered to fit either – the dress is a 26W and will need to be taken in, but it is also corset backed so I can tighten it as needed if I lose any more weight! I am so excited and happy at how it all turned out. Perfect.