Post # 1
Wedding: June 2014 - British Columbia
It is customary in my culture to change into 3 dresses (or more). Initially, I was prepared to wear only two: a simple and modern-looking red Kua (without the dragons and phoenix) and this Oleg Cassini number for my outdoor Canadian Rockies wedding and indoor evening reception:
My accessories, that would affect the choice of this (second ivory) dress; dress has to match existing accessories:
– Blue shoes (as shown in picture above)
– Lace Cap (and elbow tip veil; veil has minor lace/rhinestone/pearl embellishments)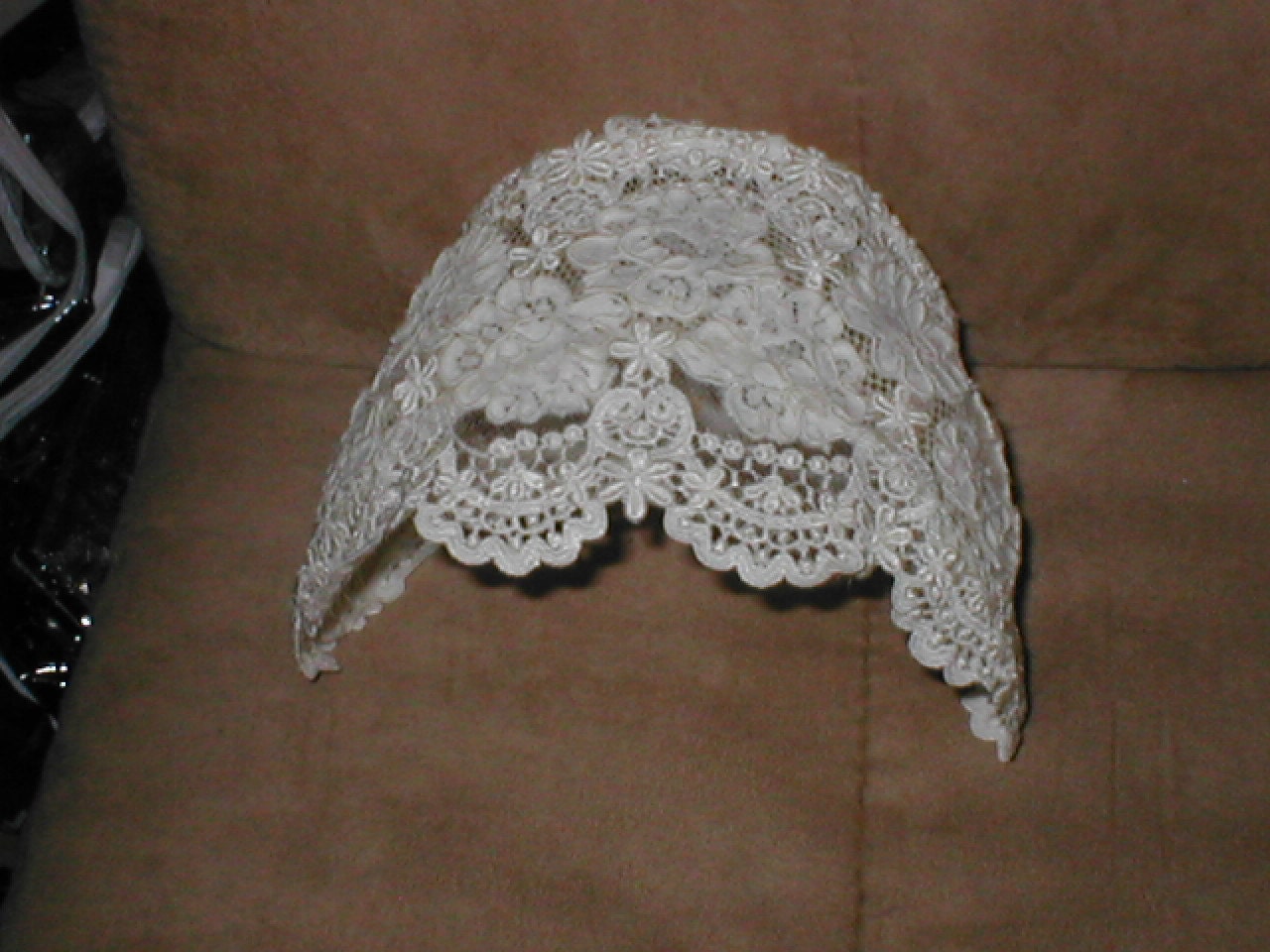 – Necklace:

The problem is that with an illusion neckline of the dress, adding any kind of necklace would take away from the dress. My mom and (late) dad went through a lot of trouble to get me this necklace they both liked to go with my dress. (Getting a second dress would also allow my mom feel more included in the planning — I picked my tea-length dress with my future mom-in-law. My mother has offered to pay for my second dress. My mom and I live 12,000 km from each other; my mom has voiced that she would like it if my dress had a train for the ceremony.)
For my every day dresses, I rarely wear strapless and seldom wear halter. Maybe I did use to wear halter tops in my earlier 20s — almost a decade ago! 😀 Even though my mother is paying, I'm hoping to spend way less than $400 on a possible second dress since I'd wear it for the length of the ceremony and formal pictures. Then, change into my reception dress for outdoorsy pictures by the bird sanctuary.
I tried to get Fiance to help me pick my second dress (for the outdoor garden wedding ceremony) between the first 4 options; he likes/"doesn't mind" Option 2, 3, and 4. My mom likes Option 2.

Here is how our venue looks like:

The bird sanctuary/marsh right behind it (close-up)

Basically, I've got 5 or 6 options, with my body-shape and fit, as well as keeping accessories in mind.
I'll place them in order of price:
Option 1: "Something Borrowed"
My little cousin got married last December and sent me pictures of her dresses. One's a strapless and the other one's a halter. Since I'm not much of a corset-back laced dress kind of person, I would much rather prefer a zipped-back.

Option 2:
http://www.lightinthebox.com/A-line-Empire-Scoop-Sweep-Brush-Train-Organza-Over-Satin-Wedding-Dress_p52324.html

My loves: The lace details, the neckline, sleeves, zipper-back. Skirt/train is not too long; sweep length.
Option 3: Quite similar to a dress I tried and fell in love with 3 years ago — long before I was engaged, hah.
http://www.dressilyme.com/p-stunning-chiffon-tulle-satin-illusion-high-neckline-natural-waistline-sheath-wedding-dress-42936.html

Loves about this dress: Natural Waistline, sweep train, key-hole back, A-line silhouette, Tulle on the shoulders (comfortable), chiffon on the outer layer is fine since the lining is satin.
Option 4:
http://www.lightinthebox.com/a-line-princess-queen-anne-sweep-brush-train-tulle-wedding-dress_p612400.html

My loves:Neckline, capped sleeves, tulle (comfortable material), natural waist
Option 5:
Alter the heck out of my existing dress to adjust the illusion neckline; see a seamstress about making an attachable skirt with a train. However, I already love the tea-length dress the way it is.
Option 6:
Keep looking — post your suggestions in the comments below.
Thanks in advance for your input! I am uncertain which ones would go best with the lace cap and veil. We don't have a strict theme at all although a lot of my accessories would hint at a fun/simple 1950s/early 1960s. 🙂