Post # 1
Back when I had no dress I was desperately searching for images of REAL people in the gowns I was interest in… usually not finding anything. So I was thinking it would be nice to start another tread on the topic "model vs reality". I start, I had originally planned to wear JCrews Corrina: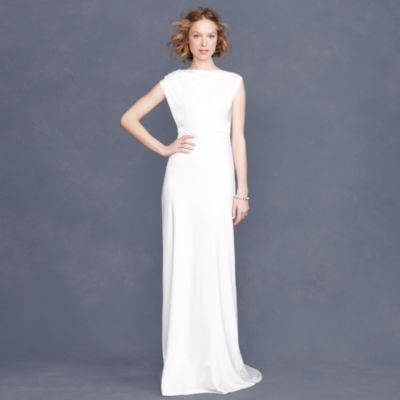 But I just didn't like it, made me feel like a ghost and it was clinging in all the wrong places:
It really made me feel as I would have to reach minimum comfortable weight to look good, and that means a life without fun. I wasn't prepared to do that, so I spend some time on line and found an Oleg Cassini gown from Davids Bridal, model CMK513:
And this is what it looks like on me in a close up:
And full figure (wonky face because evil FI was trying to make me laugh!):
What does your "Model vs Reality" pictures look like and how do you feel when you compare yourself to the model? I love my dress but I have to admit that I feel awfully short in both dresses… so I'm thinking of hemming my CMK513.