Post # 1
Now that things are finally moving along with planning and I will have a DATE and a VENUE within the next week or so, I'm so excited to finally ask my BMs to stand up with me on the big day!
Since we are all across-state from each other, I would like to mail them 2013-14 planners/agendas with my wedding date written in it and a cute little "will you be my bridesmaid?" note. I figure they can use the planner for whatever (they probably don't have 2014 planners yet), but also to keep track of wedding-related events =).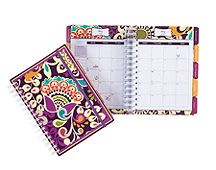 1) Is this a cute/useful "will you be my bridesmaid" gift? Would you like to recieve it?
2) Are there any other cute but not too expensive "designer name" brands? I don't like the inside of the full-size VB one, but I think the "student agenda" might be too small. And the LP 2014 ones don't come out until July, and I want to get them sooner than that! Any other suggestions?
Thanks, Bees!