Post # 1
So the Fiance and I are planning a nerdy Super Mario themed wedding. Naturally, I wanted a wedding dress inspired by Princess Peach. But, I still wanted a white dress – so I decided to take my inspiration from the original 8-bit Princess, back when she was known only as "Toadstool":

You can imagine my joy when Fiance and I got to play the new Super Mario 3D World, and I discovered the awesomeness that is Fire Princess Peach: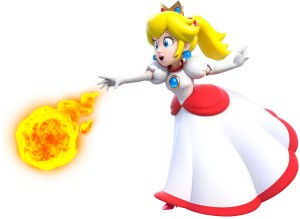 AHH so awesome!
So here's how I've put together this Fire Peach-inspired outfit so far.
The dress:
I also bought a matching red sash to wear around the waist – I doubt I could pull off the pannier-style overskirt on Peach's dress (my hips are wide enough already!)
Since the dress is strapless I bought a bolero to wear over it – these were the puffiest sleeves I could find in my size:
Jewelry (the necklace can be worn as a necklace or a brooch):
And headgear – the veil (the picture looks ivory but the one I ordered is white):
I also bought this headband, mostly because it reminds me of the piranha plants in Super Mario:
My maid of honor told me yesterday that she thinks I should get an actual tiara to wear. The consensus on Weddingbee seems to be that tiaras are outdated and tacky looking. On the other hand, I AM taking my wedding dress inspiration from a Princess. 🙂
So now I'm thinking about ordering something like this or maybe this. Maybe. I don't want to go too over-the-top. There's always this, but it's a wedding, not a cosplay. 🙂
I'm also thinking about ordering some gloves, but since my wedding is in July (indoors, but still July) I'm afraid they might be too warm to wear comfortably. I'm considering something like this or this. I am actually completely in love with these, but my maid of honor doesn't think the lace would match my dress. 🙁