Post # 1
Almost to our 3 month anniversary and we've got our pro-pics! yay!
I really wanted to do a recap and thank everyone for the help and support and fun. I've learned so much from WB. You've all been amazing.
So here we go…(bear with me if any of these turn out insanely huge, photobucket is having PMS apparently)
Dress from DB that I added sleeves to, veil from a cheap online company, headband from etsy, flowers by a friend (anemones!) It was crazy windy and I felt like my veil was coming off half the time.
Bridesmaids in dresses from DB's as well. I wasn't completely sold on this color, I wanted something softer, but they're okay. And for some reason in some of the pictures their bouquets look purple. It's only the light though because they didn't look that way IRL and it's not like that in every picture—-weird.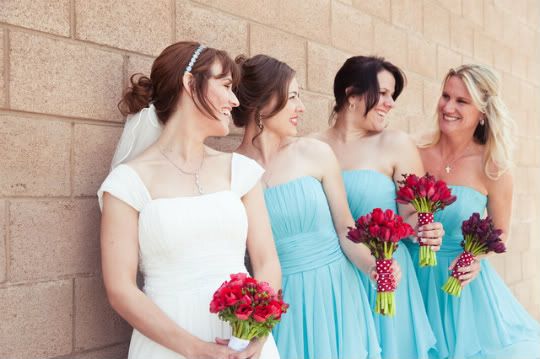 I wore Rocket Dog flats that I adore. I wore them before the wedding and still wear them now. It's a fun reminder
My niece took her flowergifl responsibilities very seriously. I think I like her dress better than mine 🙂
My guy looked super snazzy in his vest. One our GM's wasn't able to find dark gray pants in time–he's like 6'5″, lives across country, has 5 kids, and isn't a shopper–I didn't complain 🙂
Saying our "funny vows" after the more traditional. People are still commenting about how much they loved them. It made it a lot of fun and less stressful. And you can see a bit of our arbour and ribbons behind us.
Aisles were lined with red parasols from OTC
We had manzanita trees with flower balls from OTC as decor on the sides to add some color.Trees borrowed from a friend
Music by KidRock. lol. Not really, a couple of our friends sang. He has an interesting style, but they were amazing.
Better picture of my bouquet and our simple rings
DIY centerpieces with books in a ribbon, scrabble tiles and trivial pursuit cards, and small flower vases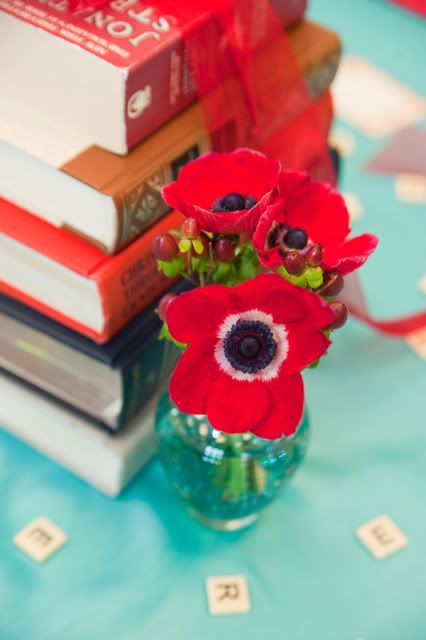 Amazingly good vanilla and red velevet cupcakes made by my baker step-SIL with hand made marshmallow fondant flowers! Seriously!
Scrabble tiles on each table
Wishing tree with cranes
We had a fingerprint tree guestbook. Beautifully drawn by my new Father-In-Law
At the reception we toasted with rootbeer, played trivial pursuit and ping pong, and had a fun fauxto area
And this is the picture I used for our thank yous. I wish we'd gotten some more unique pictures but overall I was really pleased given our time constraints. It was a lovely beautiful day and everything went really smoothly.