Post # 1
Hello Bees! I haven't seen this seller pop up on the boards yet, and they've got some neat stuff, so I thought I'd review it!
First off – I went on a hunt to see what I could use to ask my girls to be in my bridal party. Cards? Well, it'd work, but that'd be boring. Plus, I didn't like the whole 'be my bitch for a day' theme that kept popping up. Ring pop box? Seems done quite a bit, and it isn't quite me. Bottle of wine? Well, they all live about 2 hours away from me, and only one of them drinks wine, so that's a no go. I wanted something unique, fun, and possibly sparkly.
I searched Etsy for a very long time, and finally I found these : https://www.etsy.com/transaction/205430091 .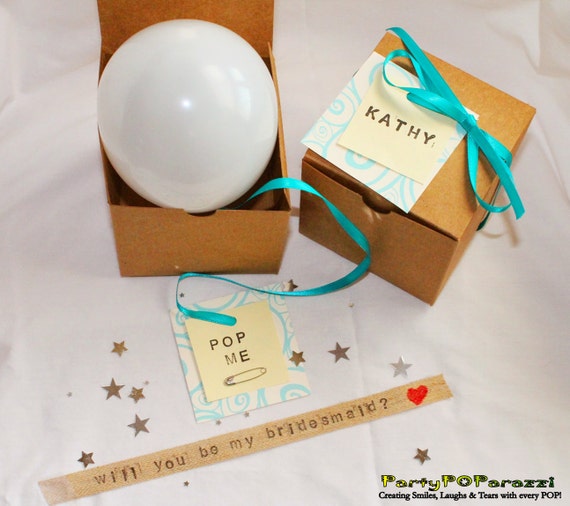 Image from PartyPOParazzi's sale page.
Its a balloon, filled with confetti, and a slip of paper that asks if the receiver will be a bridesmaid/MOH/etc. How neat!! And the colors can be changed! And the subtle pun in the gift of 'popping the question'- I love puns! I was sold. I got the set of three, customized the names and colors and roles, and waited. I also sent a question with the order asking how well they ship, as I had to ship each one to each girl.
Within a day, I had a message from the seller answering my question, confirming each box's contents/wording, and confirming the colors. I am a bad, bad person and didn't respond until 2 days later, but once I confirmed how it would be shipped (she gave me the option of assembling them myself so they could keep longer, but I opted out), the package was shipped the next day.
The package I received was very well cushioned – not a single balloon had popped prematurely, and all the names were correct. The colors are spot on what our wedding colors are too! I sent each girl one box and a card in a bubble wrapped box – and each one called me to tell me how adorable and of course YES! Lol!
So if you're looking for some unique way to ask your BMs to be BMs, I highly recommend PartyPOParazzi! 😀