Post # 1
Although I'm not "officially" engaged yet, we've both been looking at rings. He's currently deployed until December, so the plan is to get engaged then, legally married in May 2013, and have the actually ceremony the following May.
Anywho… I'm not completely partial to just white gold or yellow gold, but would like to have a combination of the two. Does anyone else have a two-tone e-ring/bridal set?
The one I was looking at has yellow diamonds in the yellow gold setting. I like it, he likes it…. but my mother HATES it.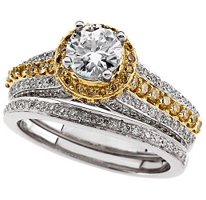 I'm sure I'd get a ton of mixed reviews from everyone, but I've never been the "typical, blend in with the crowd" type of person.
This is the ring I was looking at for him… again, we both love the ring, so I guess this will be it.
Any thoughts ladies?