Post # 1
Wedding: February 2014 - Windstar on Naples bay
So i like to keep you ladies updated, because youve all been so much help and have kept me level headed through all of my ups and downs! So i figured id give an up to date run down!
So far i finally got my menu finalized, still need to do invitations, finished booking my DJ, did my engagement shoot (still waiting on pics.) got my ceremony squared away, did my first dress fitting and my second one is next week on the 9th… need to do the cake, and grooms/mens attire, im close to getting done and as you all know im in the double digits! 😀
So here are some pics of my NEW new church! LOL many of you know i had complications getting the catholic church to wed us… guess they saw us as un-practitioners simply because we didnt attend regularly, so i went to my old pastor at my old Lutheran church. he agreed to host the ceremony. then a few weeks ago he called to inform me they made a huge mistake and double booked my wedding with their annual german fest!! Insue massive panic attack there, so for about 6 hours my heart just kept sinking and sinking… i was devestated. he had given us two options, one is we still went ahead with the wedding at the church, but have no parking OR hed call around to see if any of the neighboring churches would be willing to host our ceremony… after what seemed like forever he called me back with what was good news to me "the Lord has provided an answer" were his exact words, and one of the churches would allow us to use their church! I finally got to see it not too long ago and it is quite lovely! It's going to be beautiful, so im going to share some pics with you!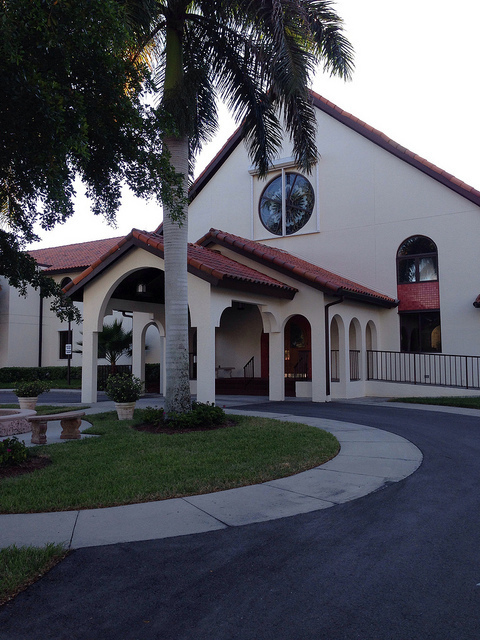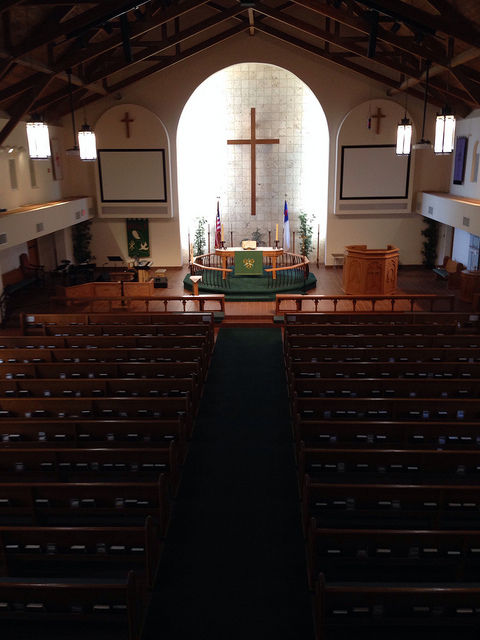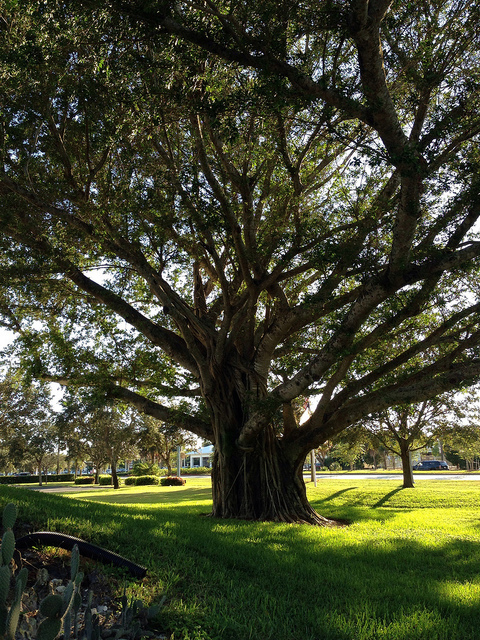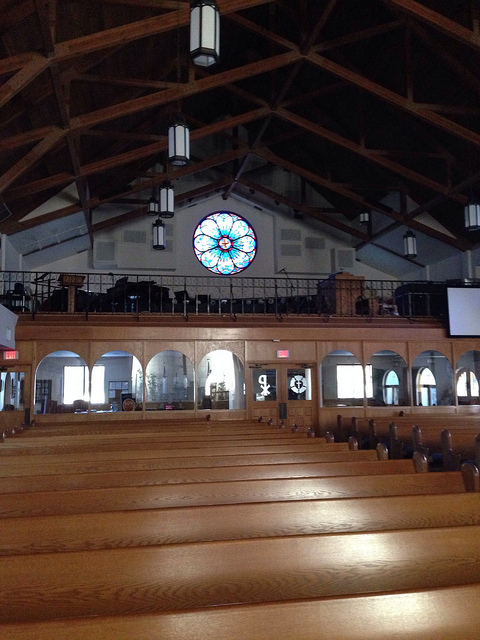 isnt it lovely?? 🙂
So then today i had my hair trial. i went with a lady who my make up artist for my engagement shoot recommended. She was super nice and patient with me. she spent a long time on the first hair do, but i just didnt like it… it reminded me too much of my high school prom hair do, and too… well over done every bridal hair since the 80's or 90's…. but i will share anyways.
Hair do #1: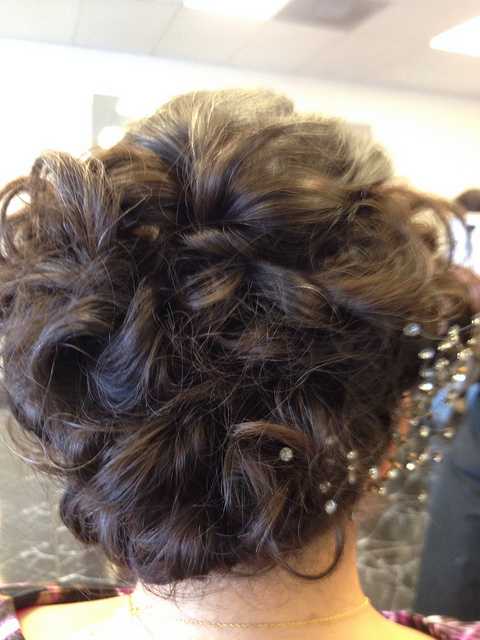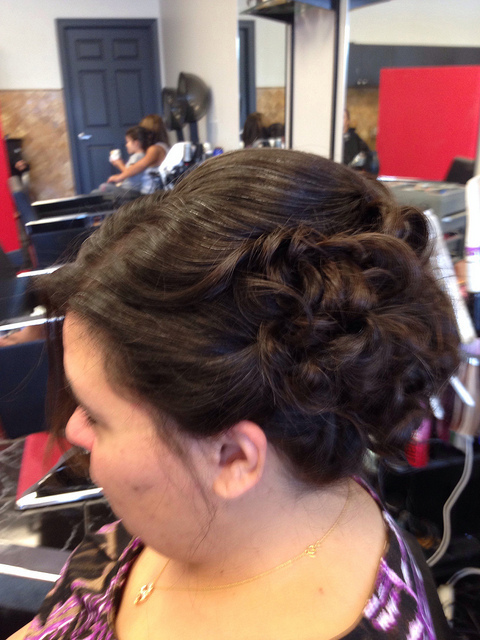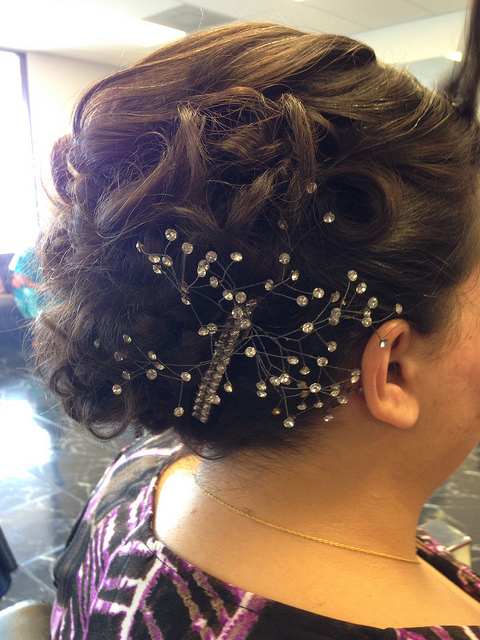 The hair piece is my mothers and is like over 40 some years old. not sure if i will be wearing it, but i brought it along with my veil since i havent decided on what to put in my hair… again this do was nice… but i just wasnt feeling it
hair do#2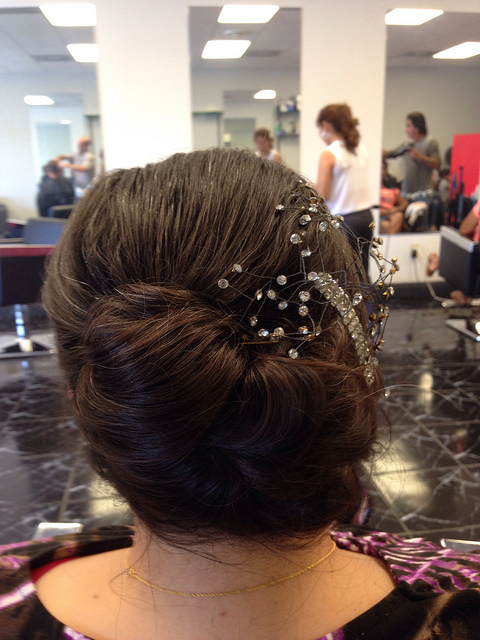 #2 was my favorite at the salon… not sure why, but its simpler and just a side swept bun kind of deal. it was sweet and not overly complicated. I wanted romantic, messy up do… which the first one was… but this just seems more me?
Hair do#3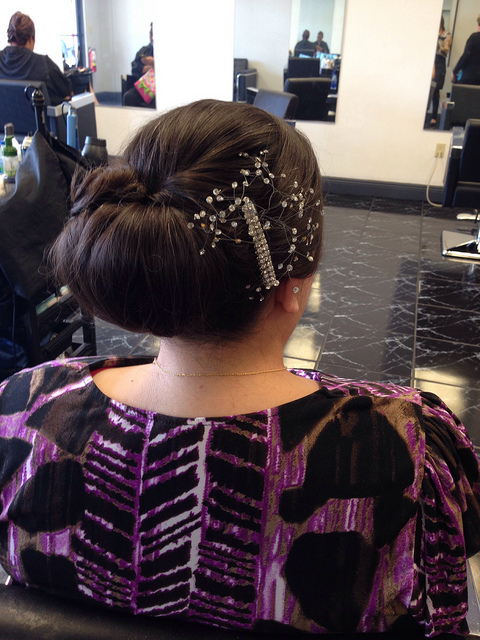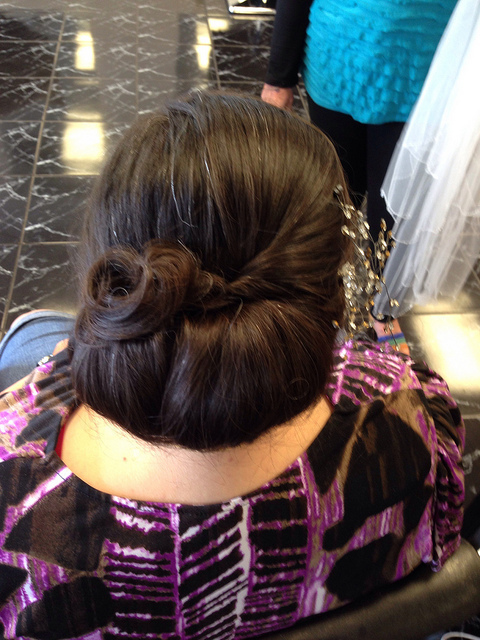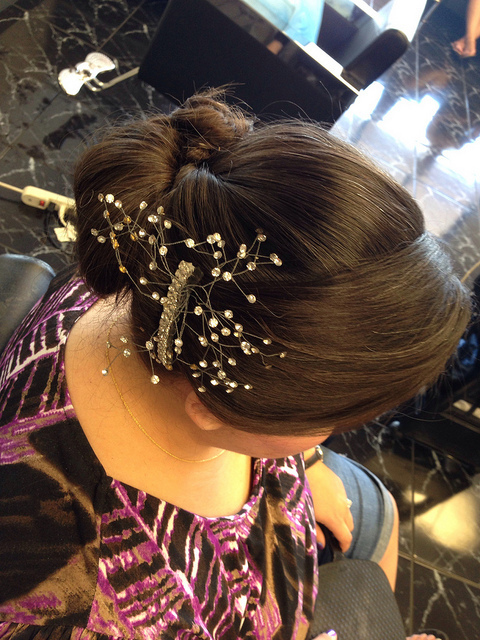 #3 was similar to 2, but is centered in the back of my head and a bit bigger. It was the crowd favorite and what i've been wandering around in all day. i admit it is comfortable and growing on me… as it seems a bit more elegant and refined, vs #2's (which for some reason i only got one pic of sorry!) side bun which seems more casual? i dunno? Both 2 and 3 work well with the veil in both ontop of the "bun" or below… which ive also not decided on. but i think its going on top.
What do you ladies think?
Then the third thing i want to share with you guys is a ring i purchased today. My wedding band is my mothers wedding band and a family heirloom. its a sapphire and diamond eternity band, in platinum and is about 80-90 years old! i LOVE it, but because of the fact that i am a very hands on person and for now am working doing factory work, i have been afraid for my dear ring's "life." LOL! so i've been on the search for a plain band to wear at work and around the house when my real band seems impractcle or a bad idea to wear…. but i feel also a little pretentious being one of those women with 3 bands… so i feel guilty. so i told my self a plain band. today we hit up a few local pawn shops to see what they had in plain bands. (i couldnt fathom spending 200+ in a department store, knowing the pawn shops had bands for about 80+) but soon mom and i were distracted by shiney, half eternities and other stoned rings…. however i did find one, that didnt need re-sizing, had a micro pave HALF eternity and the stones sat flush and dont snag or anything…. so what do you ladies think?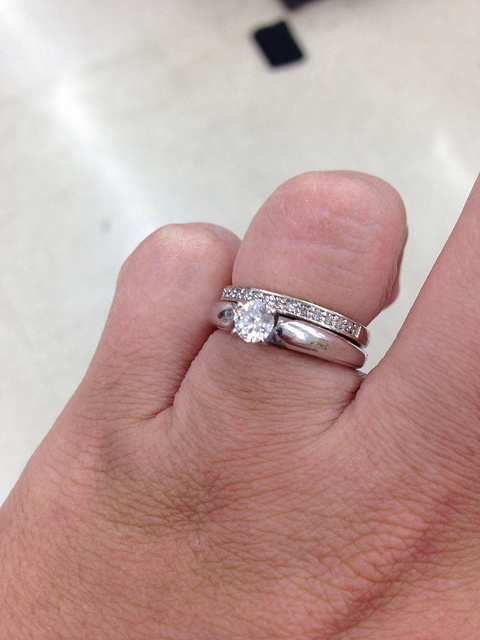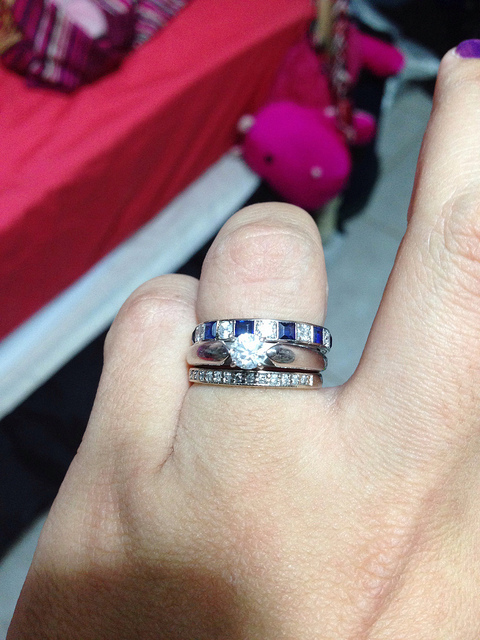 Mom also thinks i should wear the simple band on the inside and the saphire band on the outside so i can easily slip it on or off…. She also insists that i can wear my wedding bands now. she wore hers because it was given to her first before her e-ring, but i feel a little funny wearing my wedding band so its been stored away, and at the moment am wearing my new band as a right hand ring. its super comfrotable. What do you ladies think? What are your thoughts on having two bands? or two bands that dont match? or wearing one before the wedding, since its kind of a stand in?? thoughts or comments??
I hope you ladies enjoy my update!