Post # 1
Wedding: May 2014 - Tennessee
I have been super blessed and am having 3 showers being thrown for me. One on my side of the family, and the other two by friends of Future Mother-In-Law. I'm extremely grateful, if a little overwhelmed. I'm not one to willingly step into the spotlight. Anyway, I was thinking about what to wear and realized that even though I have 5 dresses, only one is really bridal shower appropriate. I plan on wearing that to one of the showers. Today I hit the stores in search of something else to add to my dress arsenal, and I found this little gem at TJ Maxx.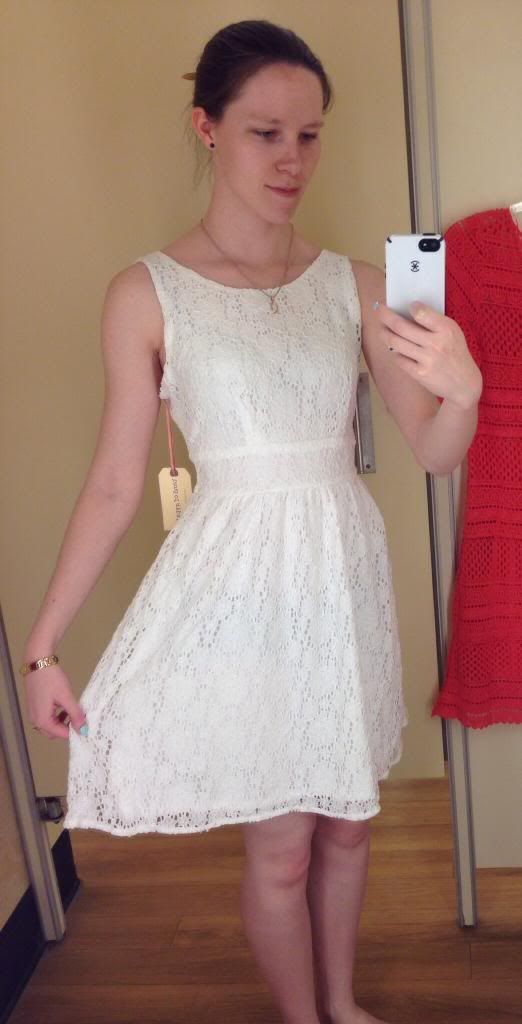 Im super pleased with it! I've always wanted a white/ivory lace dress. I think they're super classy and lovely.
Here's my problem though. I don't have much disposable income to spend, I lucked out and got this on clearance for $20, but thats not the norm for me. Stores rarely carry dresses that fit and the stores that do are places like Anne Taylor and Banana Republic. Love them, but just out of my current budget. (Just to give you an idea, my wedding dress was a David's bridal size 0… The alterations still had to take it in an additional 2″). Most of my nicer clothes have seen a tailor. Even this dress will require some work, but it's nothing I can't handle myself, thank goodness. But needless to say, I don't relish the idea of getting back out there and hunting down another needle in a haystack. :p
My question though, is it acceptable to wear this dress to two non-consecutive showers and the rehearsal? I have things I can pair with it to change up the look, boleros, pashmina shawls, etc. The only weddings I've been a part of have only had 1 shower, so I'm at a bit of a loss as far as what I've seen done. What say you, hive?