Post # 1
Alright … so a few questions to throw out to all of you.
As you may have read in another post I've made her, my mom has sadly passed away. Therefore I do not have her as a sound board. And as far as my Maid/Matron of Honor (my sister) all my ideas to her are incredibly stupid and will just plan out look horrible. She wants it to be *her* wedding. So I've come to you!
We are not doing the assigned seating thing. Except for our head table. Yes, yes, I know you don't spend a lot of time sitting at the head table whatever whatever. However, you do eat there. And I know if I were in someones wedding and my fiancé came with me, he wouldn't want to sit by himself and eat while I was else where. So my solution ….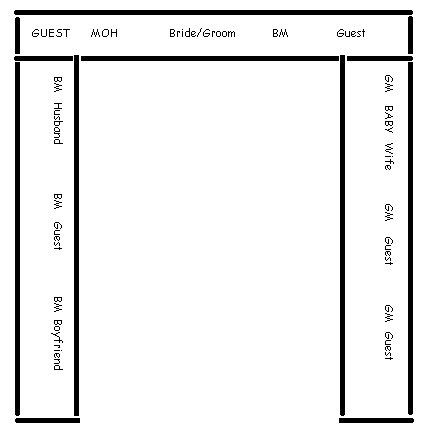 ((sorry the image is a bit big))
Next is our center pieces. We are going to have a fairly small wedding, 100 – 150 people. And it is totally kid friendly. So we thought a cute, affordable, interactive center piece would be ……
a betta with some river rocks
then at the end of night, give each beta to a child.
Thoughts, ideas, opinions?
Thanks for your help!!