Post # 1
Hello bees!
I bought a shared prong band with round diamonds to match my princess solitaire, and naturally I am questioning my choice.
I love the look of the shared prong band with a solitaire! However, one of my friends was over recently and she has a channel set band with princess cut diamonds in it.
I tried on her band and I was surprised at how much I like it. I love the sleekness of the princess cut band, plus the diamonds match my solitaire. It is also much more practical than the prong set band as obviously, there's no prongs to catch on anything.
So what do you think? Please note that the princess band is too big but the picture gives you an idea of how it would look with my ring. Both bands are the same carat weight. Please excuse my gross nails – I was doing yard work.
Thanks!
Round prong set band: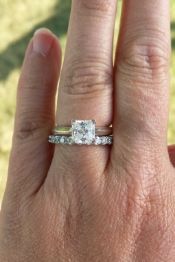 Princess channel set band: