Post # 1
Hi Bees!
I am getting marriend in Frederick, MD on October 4th at 5:30 PM. I have picked out short chiffon dresses for the bridesmaids to wear. They each cost $139. The ceremony is outside, and so is the cocktail hour (under a pavilion), but the reception is inside. Ceremony will be short, cocktail hour about 45 min give or take. I'm now worried that the girls will be cold. 🙁 It's usually really nice out in October but you never know with the weather…. last year it SNOWED (NOT typical)!
Do you think I should get them a shaw?
Here are my options:
A. Buy them each a matching shaw for the dress (picture below). There are 6 bridesmaids and each shaw costs $20. This is the color of the dress but not the actual dress. This would cost me $120.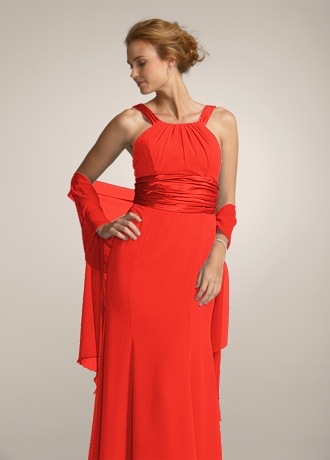 B. Get them less expensive, chiffon nude colored shaws (picture below). They will be wearing nude colored shoes. These shaws are $10 each. This would cost me $60.
C. Request that they order the matching shaws when the order the dress. My Maid/Matron of Honor said I should just have everyone order both (so a total of $159 for the ensemble). I would feel bad making them order an extra thing, but I don't think the overall price is unreasonable. I just don't know how they would take it. She didn't have a problem with it whatsoever (she actually brought up the whole shaw idea because she was afraid of being cold).
What do you think?