Post # 107
All your pets are soo adorable!!!
I thought in light of the new generation of Bees it might be fun to resurrect this thread!Here's our adorable puppy (she's turning 3 in June but she will always be my puppy!) Rona! We adopted her from the SPCA back in 06; poor baby was found in a dumpster with her tail half off 🙁 .She is one of the best things we did together! And I love her to death! And oh,they tagged her as a Pit Bull/Beagle Mix, but we've heard chow chow (?!) from other pet owners. And I'm convinced she has a lot of Rhodesian Ridgeback in her as well.
This is her yesterday after a nice long walk. Hahha. She's so lazy!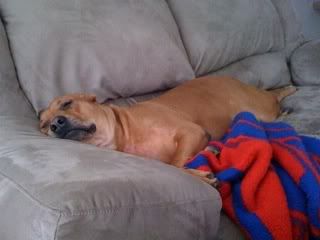 This is one of my favorite pictures of her; I call it "Please Mommy?"