Post # 1
Holy cow, yesterday we were wedding planning machines!
First we met with the linens lady at our reception hall to choose the layout we wanted and colors. With a pink/black.white wedding the options were many but it only too about a half hour to get it sorted.
The we shot over to Ikea and cleared the place out buing up glasses and votives to create a centerpice that is somethingl like Mrs Lemons It's a little smaller, but we're pretty happy with it, waiting on parts of it and the candles we coulnd't find at Ikea to arrive in the mail 🙂 Also, instead of flowers like Lemons, we're going to have some large crystal pieces skattered or jewel garland laid all around. In total for the centerpieces we spent about $130 for the centerpieces from Ikea!
Don't mind my kitchen it's last on the remodle list…and it's probably a huge mess! LOL.
I also found awesome table name holders which were actuall photo holders but given our theme is "squares" and they are pink it worked out quite well. The will be tucked back a bit so they don't jump out so much (this was a FH pick, I have to let him have his little victories)
These we're .99 each on sale and thay had several colors actally!
And lastly I found some really great plain frames I plan to paint and dress them up with jewles as "bling" is kinda the other theme going on trhough out the wedding, for the memory table. These are plain pine frames 3 in a pack for $1.99! The easle was .99 each and I only got three to elevate a few of the photos to the photos look more stagered. Unfortuantly we have almost 10 people to be displayed on our memory table.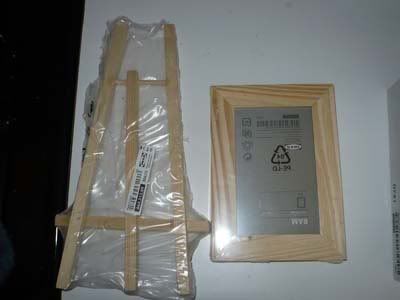 Lastly we went to the tux place for FH to pick out the suit. We went to After Hours Formal wear because of some deals I'm getting through them. The people working there were quite suprised that he wanted to try everything on. How the heck else are you supposed to know what you want?
He got it all picked out (watch for another post as this is a HUGE issue andI'm in need of advice!!!!) and we're moving ahead full speed – I just thought I share my Saturday with you as I feel so productive! While FH is on business later this month I can get started on the frames and keep busy!!!