Post # 1
So my Future Mother-In-Law wants to wear this dress: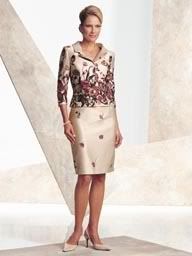 Here's the Plus Side of the thing: SHe was nice enough to ask me first knowing that it may be too white for me.
It is champainge and call me weird, selfish – whatever, it does feel a little too white for me. All the wedding party will be in black, BM's Groomsmen – everyone, and then there will be me and her….(unsure of what the other 2 moms will be wearing.)
Here's the downside – she loves this dress. Loves. Wants to marry it at a seperate cermony later that day 🙂 And I'm on the fence.
So if this were you – what do you think???