Post # 1
I hadn't really thought about it before this past week, but I need a good stunt double ring, possibly set. I brought my ring to be polished and resized. My jeweler sends all of their rings back to the "mothership" in NYC for any work. So I'm without it for two whole weeks! I stopped by Icing and picked up a cheapie CZ but I've only been wearing it for two days and it looks like I've had it for years, tarnished, copper peeking through, green finger- I even did the clear nailpolish trick! Clearly it's not going to work.
My set (once I get the band) will end up looking like this.
I need to find a stand in set for times like this and I really am not thrilled with the green finger. My solitaire is .59ct so I don't want a huge CZ. I was looking at this set on Overstock.com. It's silver plated with platinum (so no green fingers) and it's decently close.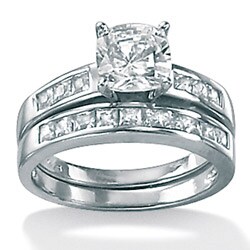 Let's see your stunt double rings! I'd also appreciate any reviews or suggestions!