Post # 1
Wedding: October 2014 - UK
Heehee, I've been really wanting to do one of these posts, I love looking at all of the dress-trying-on posts on here, and this weekend I went to the first place that lets you take pictures (the other places I've been didn't allow them, and I wasn't with anyone who was capable of taking sneaky ones on the phone…)
For UK Bees, I've discovered a shop called the Wedding Dress Factory Outlet, which sell dresses at from what I gather to be (or near enough to!) wholesale cost. Website here: http://weddingdress-factoryoutlet.co.uk/
They've got a couple of branches – one in London and one in the Midlands. I went to the one in the Midlands – it's easy enough access from the M69 (joins the M1 and the M6 between B'ham and Leicester). The way it's set up is that there are no appointments, you go and pick four dresses max, and they're placed on a rail. You then wait for a changing room to be free – there are 4 rooms at the Midlands one – and try them on!
Pros – very cheap dresses and a big selection, they're all essentially samples so you can walk out with your dress on the day (although they will hold dresses for up to 2 weeks), high turnover of stock so that means a lot of selection. And they are nice dresses! Also large selection of sizes, and a few in different colours as well (I clocked gold, pink, silver and purple). They also do monthly wedding dress contests on their facebook page to win a dress. The staff are very friendly, and professional, and there is a large selection of tiaras, veils and boleros to try on too.
Cons – It can get very busy, and there are only two mirrors outside the changing rooms, as it's only open three days a week (Wed, Sat and Sun) – I suspect it might be less busy if you could go on a Wednesday, and the girls there recommend getting there when they open (10-ish). It's not by any means a private thing – there are other parties there trying on dresses and getting in the way, and often that makes it difficult to get to the mirror. The queuing system is great, but means that you can be waiting a while before you get to try anything on, and there isn't much seating. And as the dresses are all by set designers, there isn't much variation in style – and sadly this meant that there was nothing in the particular style I'm looking for.
BUT the dresses felt high quality, the prices were amazing, and frankly the proximity vs price and the knowledge of the high turnover means that it's probably worth my while nipping back there every so often to see in case something has come in that's perfect for me.
Anyway, here's what you're all here for – pictures of some of the dresses they sell!! Not looking my very bestest (I ate ALL THE FOOD at Christmas), but it gives you some idea.
Dress 1: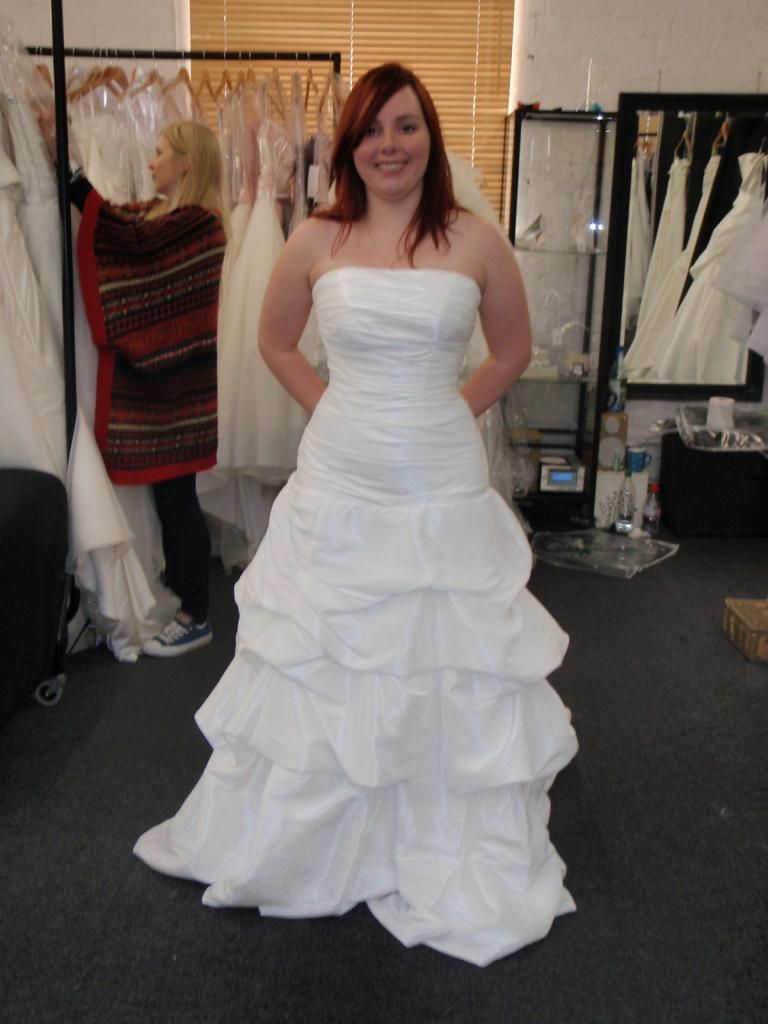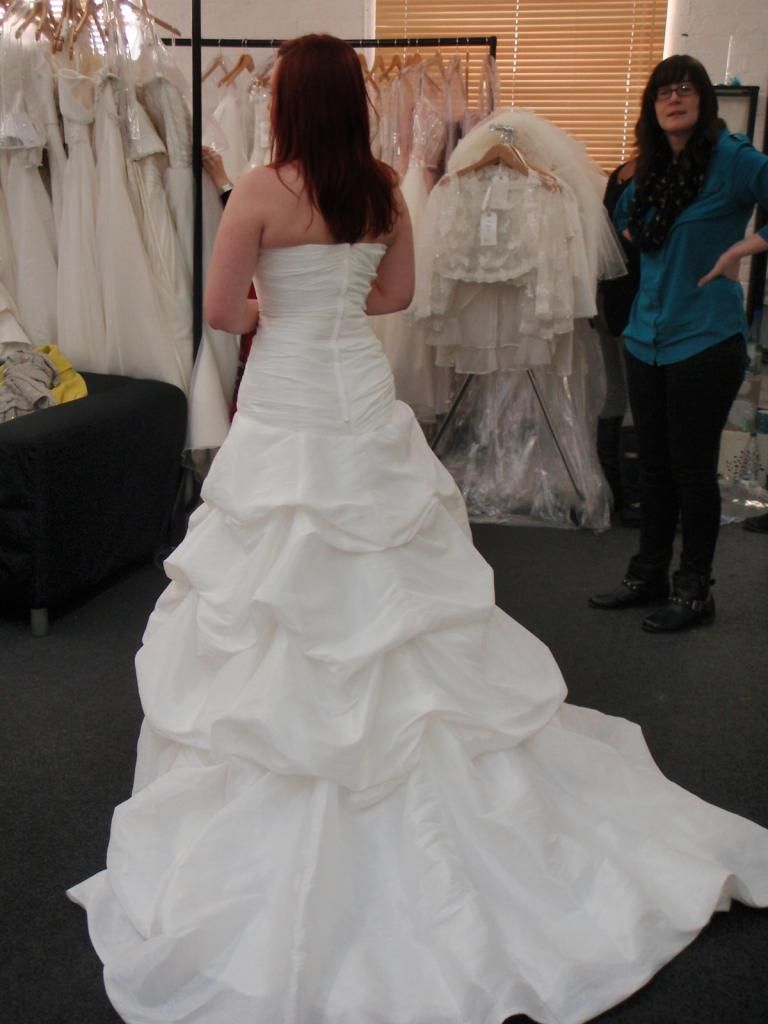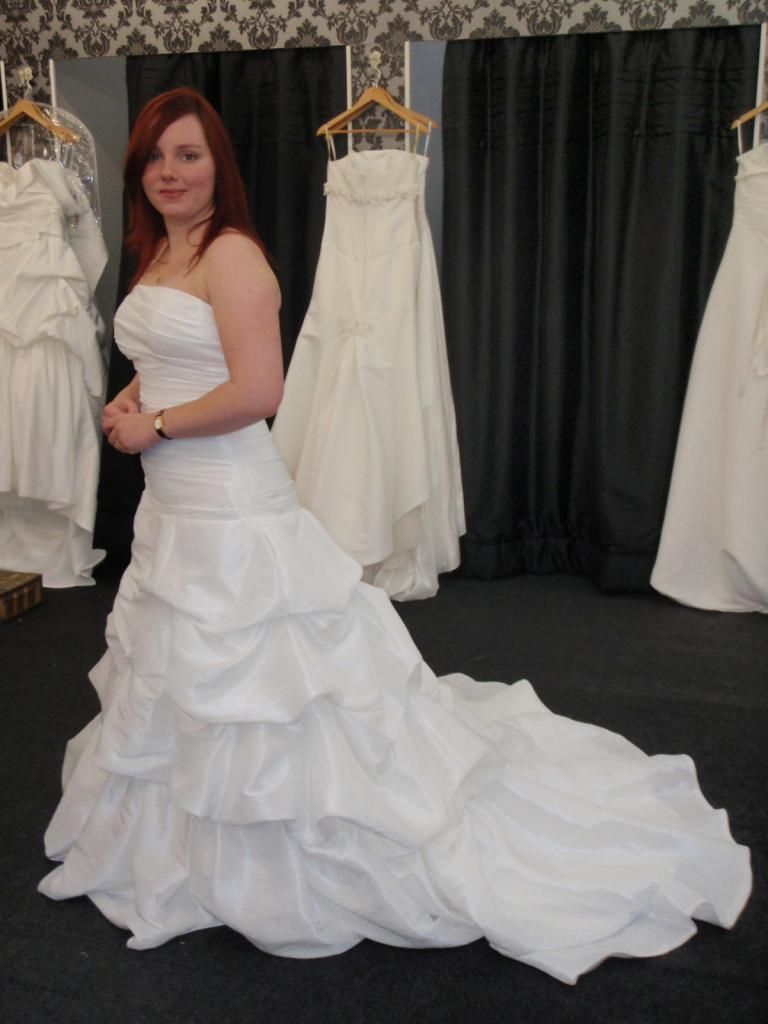 This one was taffetta, which I'd never tried before. It's much lighter than satin, and I thought the bodice was quite flattering, although I wasn't sold on the skirt I did love wearing it.
Dress 2: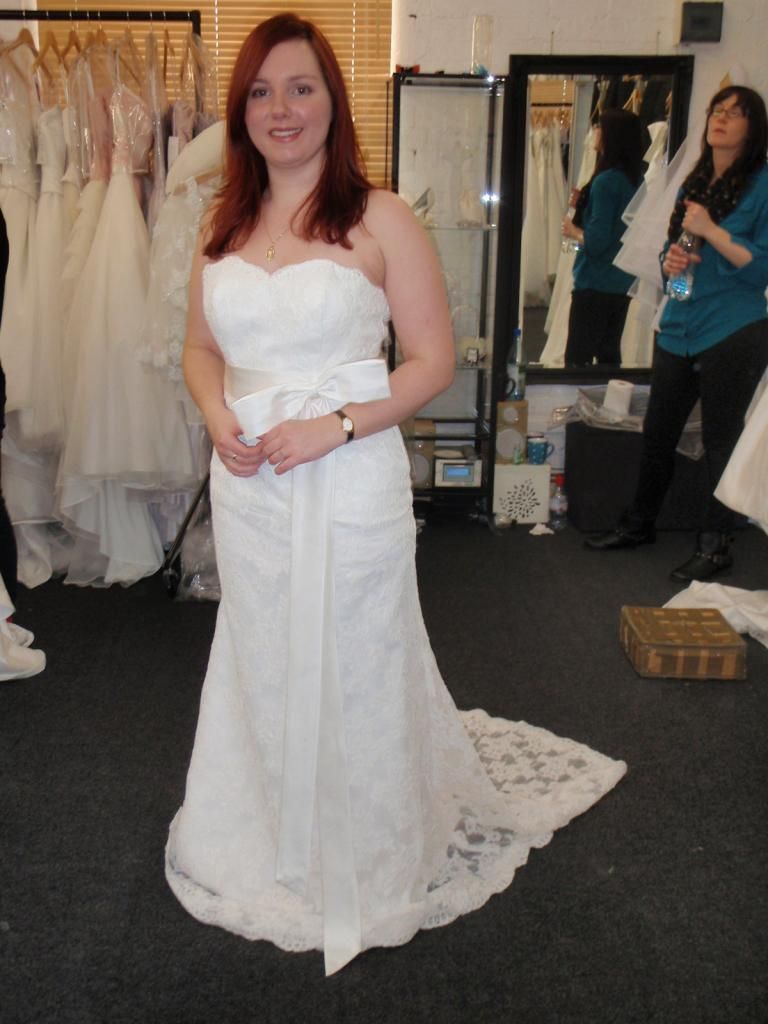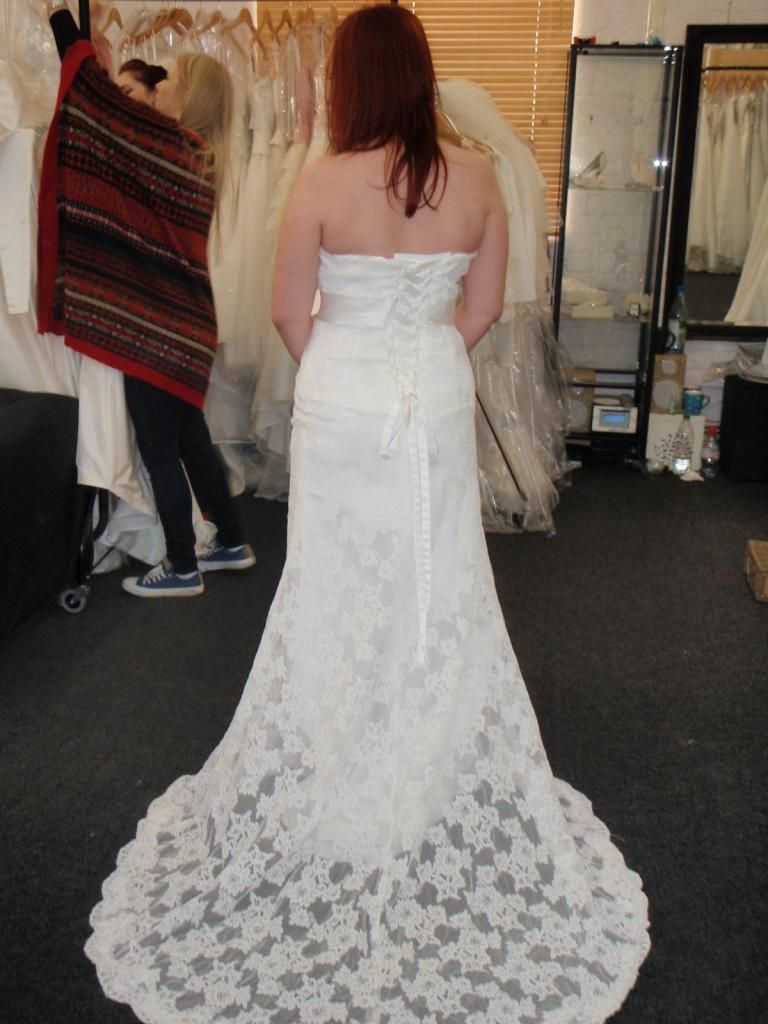 One of the few lace dresses they had (they had some others, but they were tea-length, or not in my size!), and on the day I thought it flattered the least – particularly around the hips! – but looking at the photos I think it's possibly the one that's most 'me'.
Dress 3: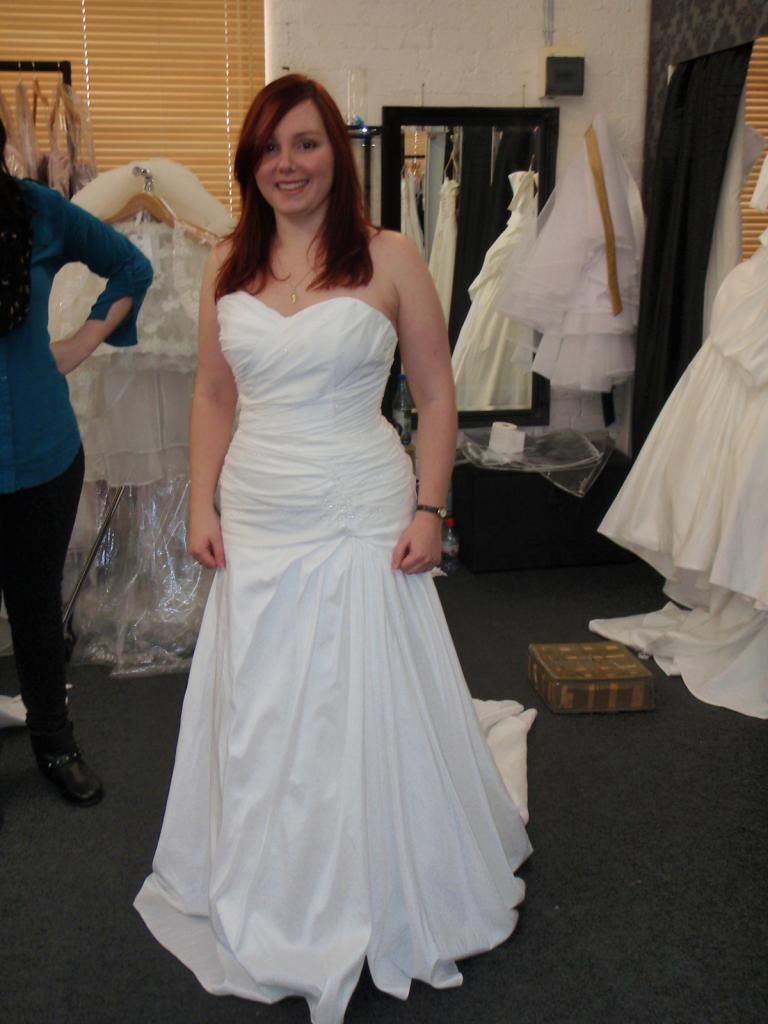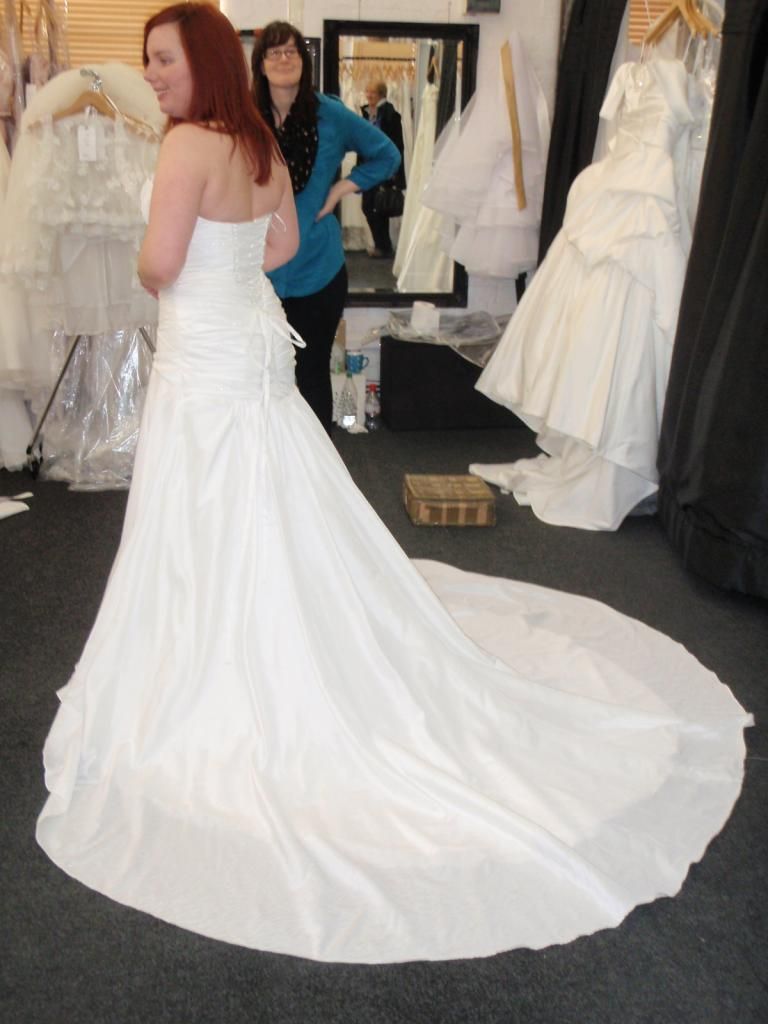 Another taffetta one – on the day I thought the skirt could do with being a bit fuller (I had a fishtail crinoline underneath), and I think that still, but it's more flattering in photo that I thought on the day, and I didn't get a good look at the train at the time, and I think that's lovely!
Hope that's helpful for any UK Bees!