Post # 1
After 1 year and 2 months, we have finally set a date and booked a venue!!!!
FINALLY!! I can just answer someones question normally when asked when is the wedding instead of saying "uhhh… well…. were saving and (insert long winded explanation here)" it is still a ways away, but im squeeling at work and just have to tell someone!
March 24th, 2018 is my wedding date! ahhhh… better start that wedding diet after december LOL.
Caesars Palace Juno Garden, Las Vegas
and the reception will be at TREVI in the Caesars Forum Shops. We have reserved the room upstairs that overviews the fountain of the gods. One of the best prices i could find for a full sit down menu on the strip for over 100 people. The space is a funky shape, but i really like it!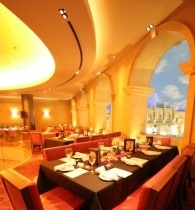 I cant believe it! I have my dress and venues booked. Just have to decide on colors and I am well on my way to planning this wedding.
AHHHHHH!!!!!!!!!!!!