Post # 1
After reading Mrs. Cupcake's post on Friday about the designer sample sale at Goodwill in Pennsauken, NJ, I decided to check it out for myself. I didn't have much of a game plan, and this would be my first time venturing out to look for a dress. I was crazy enough to get out of bed and arrive at the Goodwill at 7AM with less than an hour drive from Delaware. Goodwill was super organized and made this a painless process. I was in the store at 9AM with 14 other brides and their party (only 15 brides inside at a time). For the most part I ventured in gowns size 4-8 by myself. I had the first dibs, but nothing caught my eye.
There was a rack of used wedding dresses between the size 4-6 and size 8 racks left untouched. I first just looked through for fun, then I looked again with the crazy idea of trying them on. I had nothing to lose, and I had to at least try on one dress. Here's the vintage dress that stole my heart…
I was really caught up in the moment. So many people were looking at me, and I didn't get much time to figure out what was going on. I had a video camera pointed at me along with a few digital SLRs snapping away. The dress fit like a glove. I'm 5'3 and weigh about 110 lbs, and the measurements were all spot on. I walked to the register with this gorgeous wedding dress in hand, but there was no price on the red tag. Dresses were advertised starting at $50 for used gowns and up to $300 for designer sample dresses. The cashier talked to another worker, and here's the price…
Later at night I was able to finally take my vintage gown out of the plastic garment bag. The dress is in impeccable condition. I can't give you one flaw. The previous owner did such an amazing job taking care of this dress. I believe that the original color of the dress is ivory, and there has been no yellowing due to exposure to sunlight. There are no watermark stains or anything. It just requires some steaming at the ends, but other than that it is perfect.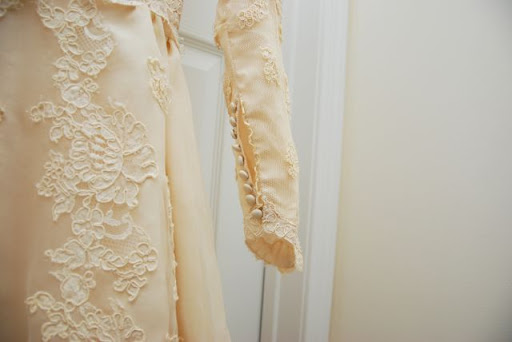 You can even find me at the Courier Post Online! I'm the main photo for the article, and there's another of me looking at that very dress on the rack.
Now I have to figure out how to incorporate this beautiful dress into my wedding. Should I wear it on the big day for the ceremony? It fits so perfectly. I wouldn't even need any alterations done. Luckily I still have another year to figure that out.