Post # 1
Hello everyone 🙂
I am new to the site & newly engaged (12/12/12) but I don't have an engagement ring yet. My fiance is from Europe & going through a graduate program, as am I so are funds are extremely limited.
We both work however and I went to look at rings for him. In his country, women receive a wedding band & no diamond ring. However, since I am American, I insisted (but not without too much nagging, lol)
Anyway, our wedding will be May 24, 2014 & we went to look at rings over the weekend. I am interested in this one: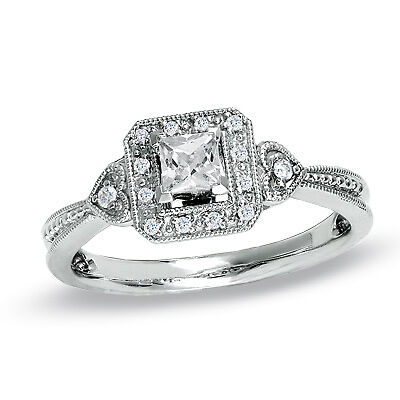 It is a 1/3 princess cut vintage diamond engagement ring with 2 hearts as accents on each side. I don't want to be a bother, but I'd want the 1/3 to be bumped up to a 1/2 carat. Is that being too picky?
My fiance & I come from humble, hard-working backgrounds & I certainly don't want to break his bank. Also, the jeweler told me that this ring is meant to be worn by itself & doesn't includ a wedding band, however they can make one for me.
Do you think a 1/2 carat would be good on this dainty ring? Or not? Should I go ahead w/ the 1/3? SHould I even bother with a wedding band?
Thanks for the thoughts,
concerned & frugal, Bride-to-be in 2014.