Post # 1
Hello Labees!!! ^^
Maybe you'll be surprised if i tell you that a French wedding has NO-THING to do with an American one! Different country, different traditions! So forget about the best man, the flower girl and the bridesmaids, and jump into a new perception of things:
in France,

traditionally

, the groom and bride have one, two, three, or more WITNESSES

each (generally girls for the bride and boys for the groom)
Here the groom has 2 boys and one girl as witnesses, and the bride, 3 girls.
Close friends or siblings of the bride or groom, their role is to be present during the ceremony (otherwise the state doesn't acknowledge the union!); they don't usually dress the same (especially girls!) Sometimes girls help the bride prepare her wedding. And usually, the witnesses plan the famous bachelor/bachelorette party.
Other than that, they are not so important for the activities of the big day (i.e. you can't put them at the same level as the American bridesmaids or best man : they can sit where they want in the church and they aren't even necessarily on the pictures outside the church (unless the bride & groom tell them otherwise), they do what they want and have fun (but they better behave and honor the bride & groom!), however they have a place of honor at the wedding table!
Thus you're gonna ask me: "wait! That's boring! Is that all?!"
No! The bride has a MAID OF HONOR, who's gonna be on her side all the time.
She's gonna help her with her veil, her train, give her her flower bouquet, hold her purse if she has one, and make sure she is pretty all day long! It is her best friend, or her sister, someone who knows her very well!
Her dress will more or less match the theme chosen by the bride.
And her secondary role will lead us to the third part of our ceremonial troop: she also has to look after all the kids of the wedding procession during the ceremony (and mass if there's one). If there are many kids, there can be a second maid of honor.
The

WEDDING PROCESSION

consists

of two to sometimes fifteen children from 1 to 10 years old.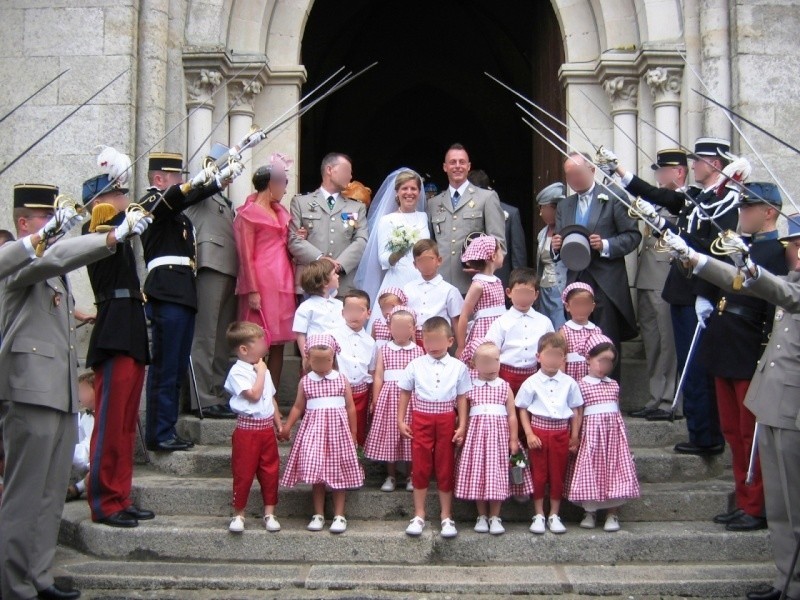 Here is a military wedding! (veeeery formal!)
Relatives of the newly weds (little sisters/brothers, cousins, nephews, friend's kids, etc…), they wear the outfits carefully chosen and sometimes even made by the bride and her mom! There are always very cute and complete to perfection the picture of the young couple in front of the church!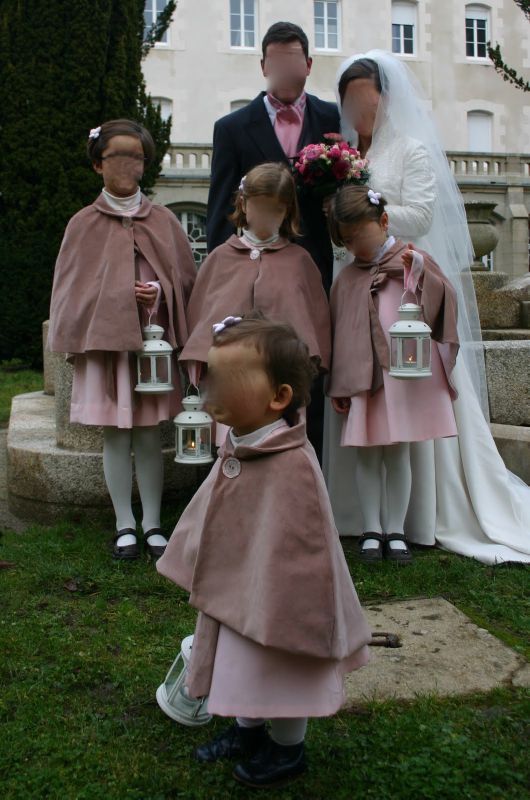 Here the theme is beige and pink: it's wintertime, the girls are wearing cute velvet cape coats and carrying a little lanterns! How cute!
That's it! I hope that you like it and if you have any question, i will be glad to answer it!
TheHappyLittleFrenchBride