Post # 1
Hey bees!
I'm having a hard time figuring out what would be best as a wedding band. I know that I want to keep my Engagement Ring on my finger forever and so there's no way I'm gonna buy another set for the wedding. The thing is, it was not part of a set, and its flower shape makes it difficult to make any other ring fit beside it.
I've already had a custom band made for it, but as soon as I got it, I was left… unimpressed. There really no punch to it at all and I know it'll just keep turning around (I know I can have them soldiered, but there's still no "WOW" to it all). It really wasn't expensive at all, so I have no problem shopping for that again. Plus I can sell it for its gold value (that won't be much, but still).
Crappy pics ahead (IPod just wouldn't focus right!!)
Here's the side of my ring, so you can see how tricky it can be for me to find something right:
Here's the custom band:
It's really thin (as thin as the thinnest part of my e-ring) and has two small diamonds that would end up being on both sides of the flower. It also has a crease to make it fit to my e-ring that makes the band half thinner than the rest at that point. But I think it's just soooo thin and I'm just afraid it's gonna break or I won't be able to notice it if it falls off…!
So I went back shopping last week.
Now I know I love anything that's curvy and I absolutely LOOOOVE my soon-to-be-husband's band.
Seriously, it's to die for: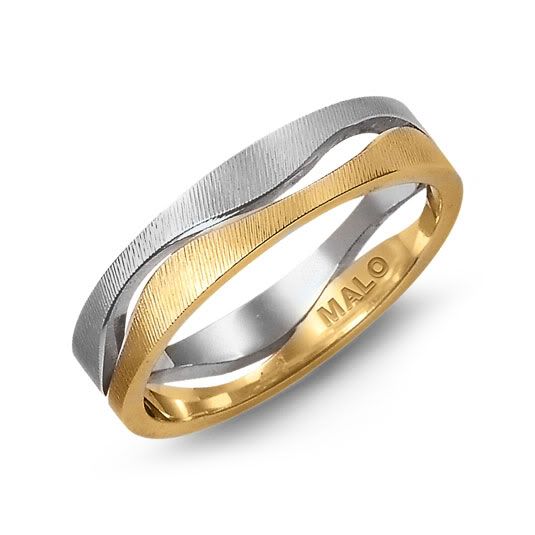 (Why couldn't they make a woman version of it!!)
I went to some jewelry stores without finding anything that I would actually liked to begin with until I came across a very nice woman who showed me some bands that could make a match (she also cleaned my ring for free since she didn't like how my e-ring didn't look as gold as the other she was having me try!). We ended up finding this one that was pleasant to my eye:
(I know it looks like it's white gold, but it really was yellow!)
I still felt that I could find something better, so I went back to the place I had my custom band made. Another really nice lady was there to help me out, and she had me try a few bands on, but none seemed to fit right until this one:
The band is part of this set: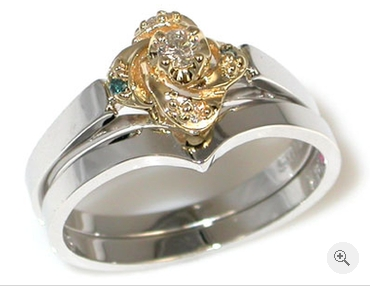 I really started to like it, and the lady took it to another level, which would be two bands on each side of my e-ring, in white gold so it would be a small reference to my SO' band. Now she had two of those rings in store, one white and one yellow. I still tried it on out of curiosity:
(Not my finger)
I realllllly love that! I love how the white gold band actually makes my e-ring pop a bit more 🙂
And surprisingly, it's not too heavy-looking on my finger, even if the bands are a bit larger than my e-ring.
But I'm still wondering if it's the right choice to make. Should I just keep the band I already have? Or choose the (I think) semi-pave that leaves a gap? Or should I get those two V-shaped bands, but one gold and one yellow (that would really look like my mans' band!)?
Gahhh so many choices..!!!
What do you prefer? Any advice?
I'll make sure to get better pictures of my band later tonight, and post them as a reply, which would probably help you help me haha!
Thank you sooo much for reading all this! (Or sorry for some pictures being so big AND blurry… stupid IPod…)
~Molianne