Post # 1
Some of you may remember these table runners, that I sewed from burlap and Darling Husband screen printed with our monogram for our wedding reception.
Tutorial HERE for the Table Runners.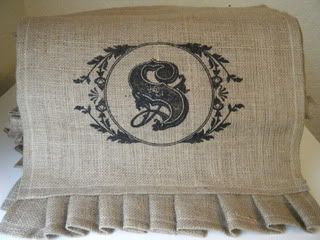 I recently upcycled them to redo our dresser. With a little brown paint and the old table runners used to upholster the drawer fronts, it looks like brand new! I especially love re-using the monogram/ruffles on the top! Now all i need are some new knobs…. but not bad overall.
PS – That's our "guestbook" on top, too!