Post # 1
I have a small wedding party: a best man, Maid/Matron of Honor, flower girl and maybe a ring bearer. The Maid/Matron of Honor and flower girl are wearing bright bluish purple dresses (below is flower girls dress, Maid/Matron of Honor is wearing David's Bridal Regency):
Here are my flowers: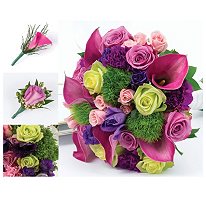 So what color vest and tux should best man and groom wear? I was thinking gray tux and ivory vest (my dress is ivory). It's a low-key, early afternoon wedding, but groom insists on wearing a tux. I think a black tux with a purple vest would be too bold for the wedding, would gray tux and purple vest look better?
I'm totally lost when it comes to getting the guys color coordinated and would really appreciate any ideas!
ETA: Groom is now insisting on a black tux. I still think that bright purple/black is too bold and formal.