Post # 1
The question will sound silly, but we don't do bridesmaids in Germany 🙂 We just have "witnesses", usually one girl (her sister or her best friend) and one guy (his brother / best friend). So I would assume these are similar to maid of honor and the male equivalent.
But what does the rest of the bridesmaid-bunch do? I love the look of it in pictures, so I'd really love having some of my girls being bridesmaids as well, but have no clue what else they do other than looking nice in pictures 😀
I take it they are walking down the aisle before the bride comes in? And then wait in the front?
But other than that … Please fill me in on everything.
My witness does not like it at all as she finds it too kitschy / American, sorry folks 😉 And I must say I'm not a big fan of having the same bridesmaid dresses for all of them (sorry but I guess it's just not being used to it).
However I have seen some pics that I find really sweet, where the bridesmaid outfits are more relaxed and basically just from the same color family. I cannot find the pic I loved most, but sort of like these: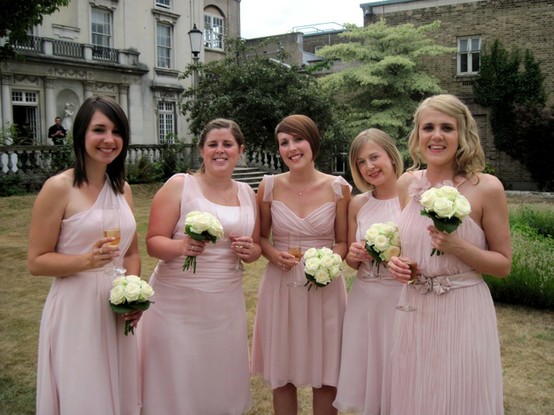 So, hoping for good reasons to convince my "witness" – I've already talked to a couple of my other best friends and they'd be in, but it doesn't make any sense if my "witness" won't be up for it.
THANKS!