Post # 1
Hi Bees!
Procrastinating from working on my paper…..I'm trying to figure out what sort of clip/pin/comb would work best in my hair for our wedding next August. I'm kind of fashion-awkward, so I'm looking for some help.
The theme is somewhat woodland – we're getting married in a gorgeous riverine woodland, mostly pines. Colors are a dark teal, light green, and ivories. My dress is ivory with some sparkles and pearls:
My hair is now a couple inches past my shoulder with some dark chocolate red highlights. I have medium hair, mostly straight with some flip. I'm thinking a swoopy updo, classic.
I am NOT doing a veil. I really want something that follows our softer, woodsy theme, and doesn't take up half my head. I was thinking pins or a comb with some sort of ivory flower, some green elements, etc. Most of what I can find online seems to be headbands (they don't agree with me, headaches or they fly off my head) or very large pieces.
I really like this but for the burlap: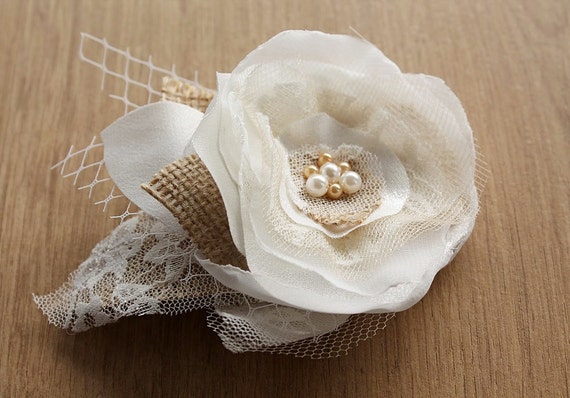 And I really like this hair with this piece:
So, Bees with better fashion sense than I: ideas? Suggestions? I'm preferring an updo to avoid hot hair neck in a Wisconsin August wedding. I'm also trying to figure out a way to bring my horse into the wedding (without actually trucking him there). Budget for a hairpiecething is $50. Shopping links would be awesome too!