Post # 1
Yesterday I was browsing through Totsy (like RueLaLa for moms & babies) and saw this adorable Touchdown Burp Cloth. So being a huge football family of course I had to show it to my husband who loved it! It was 9.95 on Totsy but i had credits so it was free!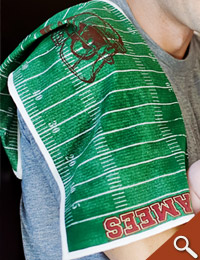 Saw this adorable football shaped blanket and had to get it as well! $27 on Totsy but free due to my credits! 😉
Aren't they adorable??
What's the first baby item you bought?
Pre or Post pregnancy? I'm obvs pre pregnancy. 😀