Post # 1
I am just about ready to pull the trigger and order my wedding flowers for our elopment!!! We are going with real-touch flowers because they will be much easier for traveling and I am torn between two stunning bouquets.
Background on our taste:We are getting married on the beach in bermuda. I want colorful/beachy/fun, but not childish. It also very important to me that the bouquet doesn't look too "posed," in favor of a more natural freeflowing look. They are fake flowers, so another big concern of mine is which bouquet will look less obviously fake in photos?
Which do you prefer of these two? (Either would be tied with plain white ribbon)
Bouquet #1: More traditional/ less "tropical/beachy" to me. This is my Fiance's preference, but I am still torn.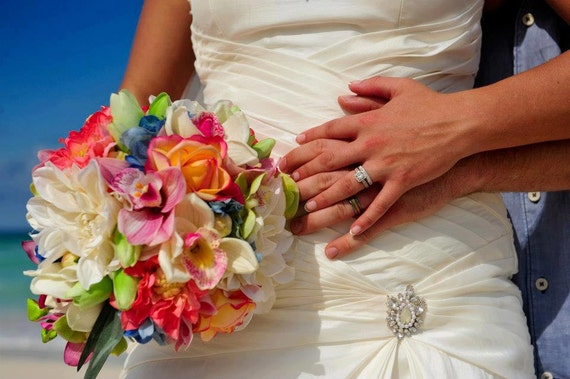 Bouquet #2
This one is so beautiful, and I love how it showcases the orange (my favorite color) in a way that is not too overpowering, as orange can be.