Post # 1
Our colors are blue (of the more turquoise variety) and yellow. The bridesmaids' dresses are "malibu" color at David's Bridal
But I don't need the color to match perfectly; not like I'm wearing this dress or will be putting my shoe on the bridesmaids' dresses, lol. In fact, they'll barely be visible except when I lift my dress up for pictures or when sitting or something. My wedding dress is this one: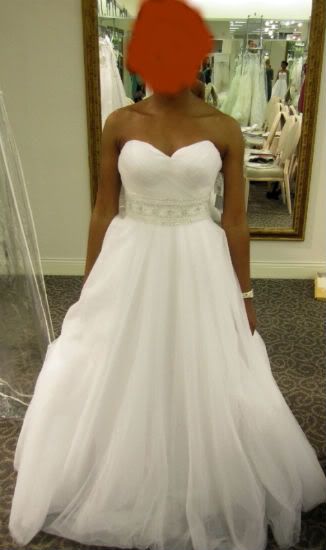 My top 2 choices are these, which I have both sitting here, and I have to return one.
#1 Seychelles "Just Because" in Teal. They are satin with a kind of, what is that?, tulle-like flower. They are 4″ heels.
#2 Paris Hilton "Destiny" in Turquoise. They are suede with a satin bow. They are 4 1/2″ heels with a 1″ platform.
The Seychelles are a bit more comfortable. They are also a little shorter, and Fiance is just about 4, 4.5″ taller than me. So I could still be a little shorter than him if I wear the Seychelles. Also, these shoes look more bridal to me because of the all over satin.
The Paris Hilton shoes are cuter to me. The color is more what I wanted, too. Perhaps I'd be more likely to wear them after the wedding. The fit is not as perfect for these, and I'd probably have to pad the heel with an insert. With these on, I am the same height as Fiance, and I wonder how that will look in the pictures.
Hmm, which ones should I choose?